Potomac Basin Comprehensive Water Resources Plan
Interstate Commission on the Potomac River Basin
One Basin, One Future
The Potomac Basin Comprehensive Water Resources Plan, adopted by the ICPRB Commissioners in June 2018, is the culmination of a multi-year, collaborative process that engaged diverse stakeholders. The plan describes a shared vision for the basin, identifies water resources issues of interstate and/or basin wide significance, and recommends actions for achieving the shared vision. It is a fifteen year plan that will be reviewed every five years to evaluate implementation progress and identify actions over the next five-year period. There is a role for everyone in the plan's implementation.
Vision
This plan provides a roadmap to achieving our shared vision that the Potomac river basin will serve as a national model for water resources management that fulfills human and ecological needs for current and future generations. The plan will focus on sustainable water resources management that provides the water quantity and quality needed for the protection and enhancement of public health, the environment, all sectors of the economy, and quality of life in the basin. The plan will be based on the best available science and data. The ICPRB will serve as the catalyst for the plan's implementation through an adaptive process in collaboration with partner agencies, institutions, organizations, and the public.
Purpose
The purpose of this plan is to identify and develop management recommendations for water resources issues of interstate and/or basin-wide significance. It aims to facilitate achievement of common goals, including protection of water supplies, drinking water sources, water quality, and aquatic life.

Progress at Year One
Updated August 2019
The first year of implementation of the Potomac Basin Comprehensive Water Resources Plan resulted in the successful completion of eight percent (8%) of the planning milestones and initiation of another eighty percent (80%) of the planning milestones.
Year One Highlights
The ICPRB signed on to the 2019 Interstate Council on Water Policy streamgage letter.
The LFAA review was completed in February 2018.
An online precipitation map was developed to assist basin stakeholders in sharing information during droughts.
An R-program was developed to calculate the Chesapeake Basin-wide Index of Biotic Integrity for stream macroinvertebrates (Chessie BIBI). The index measures biological status and responses to restoration efforts.
The 2008 baseline for the Chesapeake watershed to measure change in stream macroinvertebrate health was completed.
The manuscript titled Streamflow Alteration from Impervious Cover: Are All Watersheds Created Equal? was published in the Journal of the American Water Resources Association in December 2018.
The scope of work is complete for a study on basin-wide water uses, demands, and consumptive demands.
Focused communications activities included press releases, frequent social media posts, and targeted presentations.
Select Ongoing Activities
Data collection and analysis are underway to estimate unreported water uses by county and watershed. Tabular results are expected in September 2019.
Workshop planning is underway to cover the water quality, water use and supplies, and human land use challenge areas. Workshops are planned for fiscal year 2020.
Phase 2 of the Jennings Randolph Lake Water Control Plan Scoping Study is underway.
The Cacapon River filamentous algae study is ongoing with expected completion at the end of fiscal year 2020.
Work has been initiated for the CO-OP 2020 demand study.
The Potomac Data Inventory and Mapping Exploration (DIME) initiative is in full swing to make Potomac data sets readily accessed, related, and explored.
Extensive literature reviews have been conducted to document existing regulatory and programmatic approaches to managing human land use in the basin as well as looking for creative, effective uses of land use management tools. A written report is expected at the end of fiscal year 2019.
The Revised Water Supply Coordination Agreement Workgroup, established by the CO-OP Operations Committee, has drafted a simple operational agreement as a proposed mechanism to bring Loudoun Water into the CO-OP system.
Documents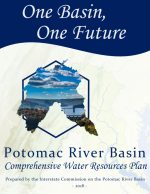 Please note that the first document contains Appendices C and D but Appendices A and B are separate documents.
Quick Access
| | |
| --- | --- |
| Executive Summary | Map |
| Simple Actions We Can do to Make a Difference | Recommendations by Challenge Areas |
| Vision | Purpose |
---
Please contact us for questions or more information.