Potomac Basin Comprehensive Water Resources Plan
Interstate Commission on the Potomac River Basin
One Basin, One Future
The Potomac Basin Comprehensive Water Resources Plan, adopted by the ICPRB Commissioners in June 2018, is the culmination of a multi-year, collaborative process that engaged diverse stakeholders. The plan describes a shared vision for the basin, identifies water resources issues of interstate and/or basin wide significance, and recommends actions for achieving the shared vision. It is a fifteen year plan that will be reviewed every five years to evaluate implementation progress and identify actions over the next five-year period. There is a role for everyone in the plan's implementation.
Vision
This plan provides a roadmap to achieving our shared vision that the Potomac river basin will serve as a national model for water resources management that fulfills human and ecological needs for current and future generations. The plan will focus on sustainable water resources management that provides the water quantity and quality needed for the protection and enhancement of public health, the environment, all sectors of the economy, and quality of life in the basin. The plan will be based on the best available science and data. The ICPRB will serve as the catalyst for the plan's implementation through an adaptive process in collaboration with partner agencies, institutions, organizations, and the public.
Purpose
The purpose of this plan is to identify and develop management recommendations for water resources issues of interstate and/or basin-wide significance. It aims to facilitate achievement of common goals, including protection of water supplies, drinking water sources, water quality, and aquatic life.


Third Year Progress
The comprehensive plan added precision to its use as a tool to guide sustainable water resources policies and actions by documenting the Unreported Water Use in the basin. Use of water for irrigation, industrial use, and drinking that does not fall under reporting requirements is small but significant, and is important in assessments of the amount of sustainable water available for use.
Second Year Progress
September. 2020
The first two years of implementation of the Potomac Basin Comprehensive Water Resources Plan resulted in the successful completion of 20 percent of the planning milestones, implementation of another 40 percent of the milestones whose activities will be perpetually ongoing, and continuing efforts to address another 32 percent of the planning milestones. 
Highlights
The Potomac Basin Comprehensive Water Resources Plan Event Series, an overarching recommendation of the comprehensive plan, was planned.  The event series is slated to include a 2.5 day stakeholder process with topics covering the full range of challenges described in the plan.
Unreported water use estimates by HUC-8 and county were completed for the irrigation, livestock, unconventional oil and gas, thermoelectric, self-supplied domestic, aquaculture, and mining sectors.
The manuscript Integrated Sustainable Water Resources Management and Land Use Decision-Making was published in the Journal of Water in August 2020.
Jennings Randolph Lake Water Control Plan Scoping Study, Phase 2 was completed (USACOE and ICPRB, 2020).
The ICPRB signed on to the 2020 Interstate Council on Water Policy streamgage letters.
Select Ongoing Activities
Execution of the Potomac Basin Comprehensive Water Resources Plan Event Series occurred in August and September 2012, event follow-up is underway.
The Cacapon River filamentous algae study is ongoing with expected completion at the end of fiscal year 2020.
The Potomac Data Inventory and Mapping Exploration (DIME) initiative is in full swing to make Potomac data sets readily accessed, related, and explored.
The CO-OP 2020 demand study is under final review.
A scope of work has been developed for a study on basin-wide water uses, demands, and consumptive demands and initial efforts of the study are underway.
Focused communications activities included press releases, frequent social media posts, and targeted presentations.
Documents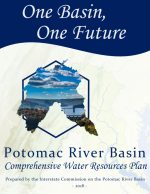 Please note that the first document contains Appendices C and D but Appendices A and B are separate documents.
Quick Access
| | |
| --- | --- |
| Executive Summary | Map |
| Simple Actions We Can do to Make a Difference | Recommendations by Challenge Areas |
| Vision | Purpose |
---
Please contact us to join our mailing list or ask questions.