Celebrating our 80th Anniversary
Interstate Commission on the Potomac River Basin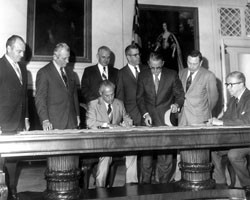 80 Years of Protecting and Preserving the Potomac River
ICPRB is very excited to celebrate our 80th anniversary (1940-2020). This Deep Dive into Potomac River History explores the milestones of the past 8 decades on the Potomac River basin. From pollution to policy, ICPRB was there every step of the way. 
What else is ICPRB doing to celebrate the occasion? Check it here.
What was the Potomac River like prior to 1940? View a timeline of early history on the Potomac.
---
Please contact us if there are additional items you believe should be included in the timeline.