Aquatic Life
Interstate Commission on the Potomac River Basin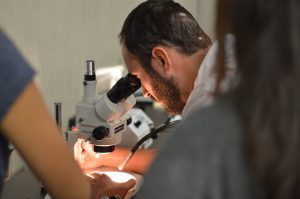 Aquatic life refers to the plants, animals, and microscopic organisms living in or near a water body. The Potomac River basin has free-flowing freshwater streams and rivers as well as tidally influenced fresh and brackish waters. Each type of water body has its own distinct biological community.
ICPRB's aquatic life projects fall into three categories: measure, analyze, and plan and act.
Measure
ICPRB actively collects biological data in several Potomac River basin watersheds. Data are any kind of systematic measurements or information. Biological data can come from measurements made in the field, samples collected in the field and counted in the laboratory, or information extracted from other data sets or geographic information layers. Recent ICPRB efforts have focused on filamentous algae and underwater grasses, stream macroinvertebrates, and mussels.
Recent Projects
Large river monitoring
Filamentous Algae
Analyze
Potomac basin states and local jurisdictions often collect data in similar ways but evaluate the data differently, against dissimilar endpoints. This can lead to inconsistencies across jurisdictional boundaries. To ensure consistent findings, ICPRB works with colleagues to develop ecosystem indicators and analysis methods that can be applied basin-wide.
Ecosystem indicators are quantitative measures of natural habitats and their biological communities. Calculated from monitoring data and geographic information, ecosystem indicators are tools used by resource agencies to restore and protect complex biological communities and inform the public about the status or "health" of a waterbody.
Recent Projects
Chesapeake Bay Phytoplankton
Plan & Act
ICPRB assisted in restoring American shad to the Potomac River, and supports the Chesapeake Bay Sustainable Fisheries goal implementation team. Former ICPRB staff member, Jim Cummins, compiled a master list of fishes found in the freshwater portions of the Potomac, including the freshwater rivers and streams and the tidal freshwater river. However, it is not a complete list of the tidal fishes because many marine species can end up in the Potomac as incidentals. The list is updated when new fish species are introduced, such as the Northern Snakehead, or species names change due to taxonomic re-evaluations.
Recent Projects