Aquatic Animal and Plant Identification
Interstate Commission on the Potomac River Basin
What Lives in the Potomac?
Taxonomy is the science of classifying living organisms into increasingly similar groups or types. Correctly naming an organism can tell you who it is most closely related to and something about its behavior, its sensitivity to pollutants, and its preferred foods and habitat.

Lists of Bugs and Algae
Plankton and macroinvertebrate monitoring programs
Species lists are routinely compiled from the sample results that ongoing biological monitoring programs share with the Chesapeake Bay Program (CBP). ICPRB works with CBP to update and maintain the following lists:
Chesapeake and Potomac Species Lists
In the 2000s, before taxonomic lists for the Chesapeake Bay and watershed were available online, ICPRB compiled species lists from published listings, other reports, and regional databases and routinely updated it. Listed were taxonomic names, common name if available, NODC (National Oceanographic Data Center) taxon codes version 8.0, and ITIS (Interagency Taxonomic Information System) taxonomic serial numbers for aquatic or water-related species in the Chesapeake Bay basin. The last update was done in 2007.
Freshwater Fish in the Potomac watershed
Former ICPRB staff, Jim Cummins, compiled a master list of fishes found in the freshwater portions of the Potomac, including the freshwater rivers and streams and the tidal freshwater river. However, it is not a complete list of the tidal fishes because many marine species can end up in the Potomac as incidentals. The list was last updated in 2013.
Resources
2016 Algae Workshop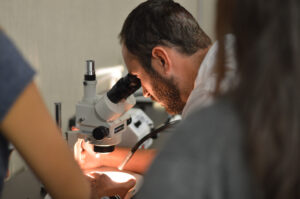 In April 2016, ICPRB participated in an Algae Summit that coincided with the EPA Region 3 Water Director's meeting. Subsequently, on August 10th of that year, the Commission hosted an EPA-sponsored workshop on algae identification.
Interested staff of state agencies and river basin commissions from Mid-Atlantic states took the time to familiarize themselves with the different forms of filamentous algae and underwater plants in the region through presentations and samples under the microscope.
Algae Workshop Resources: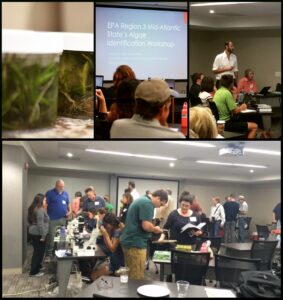 Return to Aquatic Life Main Page