Watershed Group Directory Map
Interstate Commission on the Potomac River Basin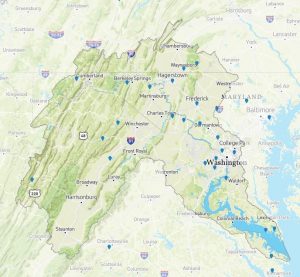 In an effort to enable individuals seeking to engage in stewardship opportunities to more easily find and join their local watershed group(s) and connect with other stewardship based organizations in their area, ICPRB has created a web-based map displaying watershed groups/organizations within the Potomac basin.
Click here to access the Potomac Watershed Groups map
Additionally, the Potomac Basin Stewards, managed by the Chesapeake Network, is a great information sharing system in which success stories, trials and tribulations, and funding information can be shared.
Please contact us if you have questions, suggestions. or comments.
Watershed Group Directory

---
Complete this form to add or edit your group on the map.