Watershed Plan for Fairview Beach, Va.
Interstate Commission on the Potomac River Basin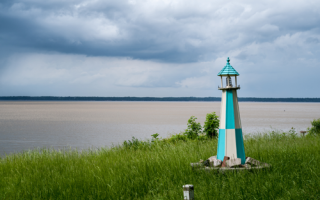 Fairview Beach, Virginia, has long experienced elevated bacteria levels at their beach along the Potomac River. Back in 2006, Virginia Department of Environmental Quality (Va. DEQ) placed the beach on its List of Impaired Waters. Typically, when a waterbody is identified as impaired, a TMDL, or pollution budget, is required to be developed. In this case, the beach met EPA requirements allowing for a watershed plan to be developed instead of a TMDL.
Working with Va. DEQ and local stakeholders, ICPRB developed a watershed plan for Fairview Beach. This was Virginia's first non-TMDL watershed plan to address a water quality impairment.
The process consisted of extensive stakeholder engagement through informal discussions and formal meetings. The plan covers the nine sections required of an EPA-approved watershed plan. The EPA is currently reviewing the plan. If approved, the watershed would be eligible to apply for federal funding to implement the plan.
The plan is meant to guide the community through 10 years of activity to restore water quality. First steps are to better identify the human sources of the contamination, including assessments of the public sewer lines and private septic fields, and the installation and on-going maintenance of additional pet waste stations. The plan calls for a mix of best management practices to address human sources, pet waste, and stormwater, and to educate the public. Download the report to see the full list of management recommendations.