How to Report a Spill or Environmental Problem
Interstate Commission on the Potomac River Basin
Oil or chemical spills are pollution events that can impact rivers and streams suddenly and acutely.  Speedy notification of a spill can greatly influence the amount of damage done. The ICPRB encourages the public to report incidents of pollution in the Potomac watershed to authorities, whether it is a foreign substance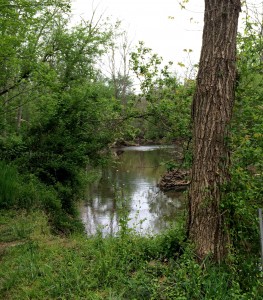 floating or dissolved in the water, discoloration or foaming, or a fish kill.
Suspected pollution incidents should be quickly reported to the authorities.
Additionally, the ICPRB is conducting a multi-year program focused on addressing chronic algal blooms and is seeking reports of algae blooms or new stands of aquatic vegetation from citizens who spend time on the river. To report an algal bloom to ICPRB, check out the Water Reporter app, a phone application that lets you easily track where you saw an algal bloom with GPS coordinates and photos.
Click here to learn more about ICPRB's spill-tracking tool, the Emergency River Spill Model.
Contact Information by State
Download a PDF of the Contact List
It is recommended that you contact a state-level agency to report an environmental problem. The numerous county and local governments in the watershed are quite varied—some have infrastructure in place to deal with these emergencies, while others are smaller and rely on state services. State level emergency offices are usually able to identify a local entity if appropriate.
Contact information for each state in the Potomac river basin can be found below. Each jurisdiction has a specific emergency contact number if the event is an immediate threat to public safety or the environment. These phone numbers are generally monitored 24 hours a day.
If possible, please have the following information available when calling:
1.  Name and telephone number of person reporting the spill
2.  Location of spill, including
– name of affected stream
– street address and/or latitude & longitude
3.  Identity of spill material
4.  Estimate of quantity of spill: total mass or volume or discharge rate
Maryland
If the incident is an immediate environmental threat, call the Maryland Department of Environment (MDE) emergency number. For non-emergency events, please email MDE, fill out the online form, or call the relevant office.
Virginia
For emergency events, contact the Department of Environmental Quality Department (DEQ) of Emergency Services. If reporting an algal bloom, contact the Harmful Algal Bloom Task Force.
To report a non-emergency event such as a fish kill or related incident, contact the Department of Environmental Quality regional offices.
Washington, D.C.
For fish kills or other concerns regarding pollution in the Washington, D.C. area, please contact the District Department of Energy and Environment during normal business hours. If it is an after-hours emergency, dial 311 (call must originate in the District of Columbia) and the operators will contact the correct government officials.
West Virginia
To report a hazardous material spill or other environmental emergency, contact the West Virginia Department of Environmental Protection (DEP). For non-emergency situations, contact the DEP customer service to reach an environmental advocate. To report a fish kill, complete the online form.
Pennsylvania
In the case of an emergency, contact the Pennsylvania Department of Environmental Protection (DEP). In case of a suspected pollution event that is a non-emergency, contact the Fish and Boat Commission.
---
 Stay Informed
If a spill has occurred in the Potomac watershed, ICPRB will track its progress on our website and social media. Sign up for our newsletter, like us on Facebook, and follow us on Twitter to stay informed. Other organizations, such as the Potomac Conservancy and the Potomac Riverkeeper Network, may also track pollution events.