"Chessie BIBI" stream health indicator
Interstate Commission on the Potomac River Basin
Chessie BIBI
The Chesapeake basin-wide index of biotic integrity for stream macroinvertebrates, or "Chessie BIBI," is a multi-metric index of stream health applicable to freshwater streams and small rivers across the Chesapeake Bay watershed. It is composed of family-level macroinvertebrate metrics (indicators) that are especially responsive to differences between high quality and degraded stream conditions.
Click here to view an annotated presentation on the Chessie BIBI.
Developed in 2011, the index is calculated from stream macroinvertebrate samples collected and counted by state, federal, and local agencies and other groups. The last time period for which index values were calculated was 2000-2010. Through a grant from the Chesapeake Bay Program, ICPRB updated the data set and refined the index in 2016-2017. A final report was reviewed by a technical advisory group and is available below.
Establishing a Baseline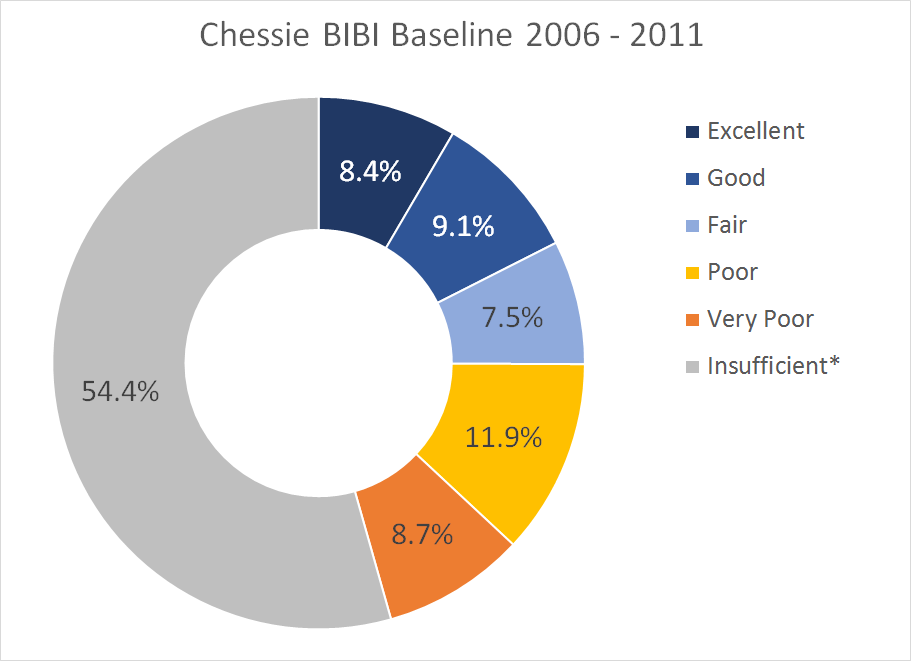 The Cheseapeake Bay Program's goal for Stream Health Outcome is to: continually improve stream health and function throughout the watershed. Improve health and function of ten percent of stream miles above the 2008 baseline for the watershed.
Monitoring programs collect stream samples to help determine the physical, chemical and biological health of our waterways. The Chessie BIBI uses macroinvertebrate ("bug") data from these programs as an indicator of stream health throughout the Bay watershed. The Chesapeake Bay Program will use the Chessie BIBI to track progress in restoring stream health in the Chesapeake Bay watershed. In 2018, scientists and managers decided the 6-year period between 2006 and 2011 is the most practical baseline for the Chessie BIBI.
Completing the Circle
Roughly half of the small watersheds in the Chesapeake region have little or no stream data during the baseline period, so stream health in these places will be estimated with a model that predicts the Chessie BIBI from various landscape and stream features. Scientists and managers are exploring how to use this baseline to measure trends in stream health and progress toward achieving the Stream Health Outcome. The model will fill in the remaining 54.4% of the streams that currently have insufficient data, as shown on the graph.
Chessie BIBI Map
---
Baseline Workshop, 2018
A technical workshop at Cacapon State Park W.Va. was held April 5-6th 2018 to establish a "2008 baseline" for the Chessie BIBI. Links to the workshop summary, background materials, and some of the presentations are below:
---
Full citation: Smith, Z., C. Buchanan, and A. Nagel. 2017. Refinement of the Basin-Wide Index of Biotic Integrity for Non-Tidal Streams and Wadeable Rivers in the Chesapeake Bay Watershed. ICPRB Report 17-02. Interstate Commission on the Potomac River Basin. Available online at www.potomacriver.org.