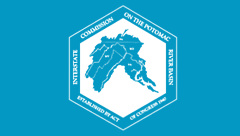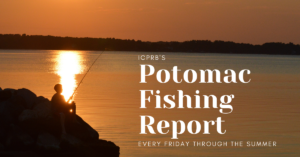 Shenandoah basin water levels remain extremely low and clear with some algae blooms. Smallmouth bass and catfish can be found in both the North and South forks with the best times being early morning and evening as fish respond to even a couple of degrees lower temperature. Fish will be found in shaded pools of deeper water with some cooling current. Mountain streams in Shenandoah National Park are very low and clear, and it will take some stealth to sneak up on wary trout and long casts will be required to fool the trout.
The South Branch Potomac remains extremely low, and the warm water is making the fish lethargic and the bite very light. The same holds true for the slightly cooler North Branch Potomac, where anglers are using terrestrial flies to catch some brown and rainbow trout. The ICPRB continues to assist the Maryland Department of Natural Resources with creel surveys and data collection that will help in future management decisions.
Along the upper Potomac, fishing can be difficult in the warm water, which is stained by algae in some areas. Our river watchers are noting that they have not seen the river this low in years. Most of the action is in the very early morning or near dusk. There are lots of low water areas to confound boats and wading or fishing from canoes and kayaks is less stressful. Deeper water in mid river with rock gardens or boulders should be targeted. Anglers are throwing some topwater lures at daybreak or dusk, and small soft plastics can be used on the bottom. The bite is very light and setting the hook on fish is a challenge. Seneca, Lander, and Brunswick provide access to some productive areas. Smallmouth bass and channel catfish mixed with some sunfish are being taken. The DNR is planning for a supplemental stocking in some areas of the river. For more information, visit the smallmouth bass stocking webpage.
Fishing in the metropolitan Potomac continues to be slow, with water temperatures reaching the high 80s in spots. Visibility has deteriorated somewhat. Bridge pilings, docks, and other structure can be fished with stick worms, soft plastics, and crankbaits, all fished extremely slowly. The Washington Channel is holding blue catfish and largemouth bass. Patchy grass beds can be targeted for bass on a moving tide.
Downstream in the tidal Potomac, National Harbor and the Belle Haven Marina area have been productive. Anglers are using stick worms and other baits that can be fished very slowly, and bites can be hard to feel. Increasing grass beds downstream of Pohick Bay are productive on a moving tide. Swim baits will work at the grass edges and topwater baits run over the beds at higher water can produce largemouth bass. The mouth of Matawoman Creek is giving up some bass. Blue catfish can be found in most places with cut bait.
Snakeheads can be taken in grass beds at the heads of tidal creeks are lurking in grass beds and structure at the heads of tidal creeks.
The Maryland Department of Natural Resources is raising largemouth bass fry to supplement wild populations, and recently stocked 2,500 juveniles in Piscataway Creek and 19,500 in the Mallows Bay area and Nanjemoy Creek. About 10,400 bass fingerlings were stocked at Indian Head on the Potomac River and Piscataway Creek.
The Potomac River mainstem in Maryland and its Virginia tidal tributaries are closed to striped bass fishing through August 20. Maryland tidal tributaries to the Potomac are now open to striper fishing.
Colonial Beach is reporting a lot of baitfish, although the striped bass seem to have moved out. Water temperatures are in the upper 80s and the water is increasing stained and dirty-looking. The bottom of the main channel is experiencing its usual low dissolved oxygen zone, so be careful about fishing too deep. Anglers are catching some small croaker and white perch. Some nice Spanish mackerel can be found from Colonial Beach to the river's mouth. Cownose rays are stealing baits, and sea nettles are around in force.
Near the river's mouth, anglers are taking Spanish mackerel and speckled trout. Anglers are finding some striped bass in the Maryland embayments. Cobia are being taken in chum slicks, which  also attract cownose rays. Bluefish are competing with the stripers. Crabbing has improved somewhat, and while the numbers are down, the crabs are large.
We are grateful to the many river watchers who contribute to this effort. Particular thanks go to the state departments of natural resources, Potomac River Fisheries Commission, National Bass Guides, Shallow Water Fishing Adventures, and Machodoc Creek Marina.