Some Fishing News…
Striped Bass Closure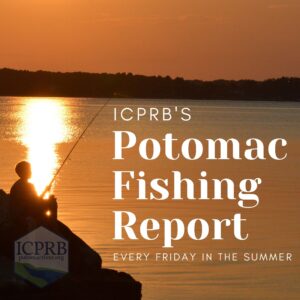 The striped bass fishery on the tidal Potomac River proper is closed to striped bass fishing until August 21 and the Maryland embayments will close on July 16, reopening on August 1.
Smallmouth Stocking
The Maryland Department of Natural Resources recently began stocking smallmouth bass fry that have been raised from adult fish that were spawned at the Joseph Manning Hatchery in Cedarville this spring. These supplemental stockings help smallmouth bass populations in the upper Potomac.  On June 14 crews stocked a total of 15,000 smallmouth bass fingerlings (two to three inches) in the upper Potomac River at Taylors Landing, Snyder's Landing, Shepherdstown, and Dargan Bend boat ramps. On June 29 an additional 15,000 smallmouth bass fingerlings were stocked at Brunswick, Point of Rocks, Noland's Ferry, Whites Ferry, and Edwards Ferry boat ramps. The effort is a response to decreased reproduction from previous years.
Potomac Dolphins
The Potomac dolphins have returned for the summer and seem to be traveling up the river in force. A large pod of the marine mammals (estimated roughly to 50-80 individuals) was seen near the Route 301 Bridge and Machodoc Creek. Spreading some angler hearsay, some have noticed that schools of baitfish and stripers seem to disappear in the presence of the pod and see the dolphins as competitors for fish. Anglers can share their observations with the Potomac-Chesapeake Dolphin Project.
Maryland is considering some changes to fishing regulations. Public comment is invited.
Fishing Reports
The Shenandoah system is pleasing anglers with good catches of smallmouth bass, sunfish and channel catfish. The water is clear and both the North and South forks are fishable. Water clarity is good, and temperatures near 80 degrees are making the low, lazy waters productive. Early morning and sunset are producing some nice topwater bites. The mountain trout streams are warming with some hatches occurring.
.
Anglers on the South Branch Potomac continue to find some nice smallmouth bass, especially in deeper holes Good reports are coming from the Petersburg area.
The North Branch Potomac and Savage rivers continue to produce rainbow and brown trout. Trout management areas are producing, and nice catches are being reported. The trout are fewer in the downstream reaches where temperatures are rising.  Most of the action is upstream of Pinto.
The upper Potomac River is continuing a nice summer season. The river is in its low summertime mode and canoes and kayaks will have a navigational advantage over powerboats.  This is also a good time for wading. The sector from Point of Rocks down to Brunswick is particularly good. Early morning and evening deliver nice topwater opportunities. During the day, find large structure where fish are concentrated. Anglers are using small soft plastics to probe rock gardens, boulders, and wood structure. A slow retrieve is favored, and the bite can be light. The fairly clear water favors long casts that won't spook the bass. The Monocacy River is fishing well, although local storms may muddy the water. Smallmouth bass sunfish, and channel and flathead catfish are all biting.
In the metro area, largemouth bass are in the summer mode as water temperatures climb into the mid-80s. The sparse grass beds in this region have anglers targeting bridge pilings in the District of Columbia, where anglers are using plastics, buzzbaits, and crankbaits to probe waters with visibility of a couple of feet. Largemouth, smallmouth and striped bass can be found. The Pentagon lagoon is giving up some largemouth bass. The seawall in Washington channel is always worth a try along with the grass bed. Hard structure in the lower Anacostia are targets for bass and some snakeheads. Anglers are probing the spoils are aby Wilson Bridge with soft plastics and buzzbaits, and the piers at National Harbor are productive on a moving tide. Blue catfish can be caught in most areas with cut bait.
In the tidal Potomac, anglers are targeting hard structure and the few grass beds. Hydrilla patches are emerging, providing some fish cover worth exploring. Anglers are targeting docks and wood structure on moving tides with a variety of soft plastic and crankbaits. The 80-plus-degree water is carrying some stain. The visibility of about two feet improves near any grass beds. Anglers are finding bass in the tidal cuts at Belle Haven. Blue catfish are everywhere, but the channel off Fort Washington is a honey hole that regularly turns up fish of 40 pounds or more. Mattawoman Creek is always worth a look, although the grass beds and lily pads are a very popular spot. The larger grass beds in creeks downstream become the primary target for largemouth bass. And snakeheads. Pohick Bay, Aquia Creek, and Dogue Creek have nice beds of grass worth targeting. Snakehead fishing is very active at the heads of tidal creeks with grass beds in shallow water. Floating a frog lure over the beds on a moving tide can produce some great topwater strikes. Anglers are using strong braided line to get the fish out of the grass beds, where anglers also are using ploppers and crankbaits at bed edges.
Anglers in the Colonial Beach area have seen angling slow a bit. Anglers are finding small croaker, spot, and white perch. Blue catfish are not hard to find. Water temperatures are in the low 80s, with some green stain and mud near creek mouths after storms. The slowly increasing salinity from dryer weather is bringing in some sea nettles, and there are a lot of dolphins to watch.
Near the river's mouth, anglers continue to report very good catches of stripers in the Maryland embayments and in the St. Mary's River. The Potomac River proper is closed to striped bass fishing, and the Maryland embayments will close on July 16 (see above). Some cobia are being taken near Smith Point.  Some croaker and spot are being caught, along with white perch, which can be a lot of fun to catch on light tackle. A few red drum and small flounder in hard bottom areas round out the catch. Crabbing is improving a little but remains slow.
We are grateful to the many river watchers who contribute to this effort. Particular thanks go to the state departments of natural resources, National Bass Guides, Shallow Water Fishing Adventures, and  Machodoc Creek Marina, Inc.