Seven Bends State Park
July 1, 2022
Woodstock, Va.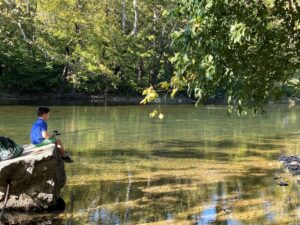 The Seven Bends State Park is named for the twists and turns of the North Fork Shenandoah River as it meanders along the base of the Powell Mountain in northwestern Virginia. It is those same twists and turns that makes one feel they are the sole occupant of this small slice of undisturbed nature.
As part of the Massanutten mountain range, the area is on the ancestral land of the Indigenous nations of Manahoac, Massawomeck, and the Shawandasse Tula.
The Park is one of Virginia's youngest state parks. It quietly opened in 2020, but the official dedication took place in June 2022 to great fanfare as it joined the state's 40 other state parks.
There are two access points to the park. The Hollingsworth access at 2111 S. Hollingsworth Rd. will bring you to a large open field with plenty of parking and a kayak/canoe access point. It is tough to reach the river here, so if that is your destination, choose the Lupton access point at 1191 Lupton Rd. This provides a smaller parking lot, but easy access to trails and plenty of fishing spots along the 3-miles of riverfront. Alternatively, you can put your canoe, kayak, or tube in at Hollingsworth access and float the 3 miles (and roughly 1-2 hours) down to the Lupton access.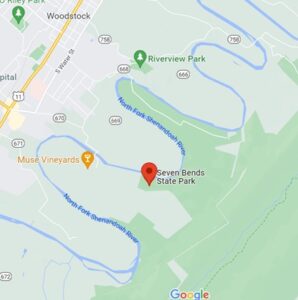 Smallmouth bass are the most popular fish for anglers; however, you may also spot sunfish, fallfish, largemouth bass, and muskellunge (please follow all fishing license requirements).
Picnic tables provide a nice gathering place for before or after your trek on any one of the 8 miles of trails. Interesting sites await if you brave the steep trails, including the remnants of two centuries old water reservoirs. One is in ruins but the other still provides an abundant ecosystem (and good fishing).
The area is open every day from 6 a.m. until dusk. There are no overnight accommodations (yet, anyways). The park's Master Plan calls for campground and visitors center focused on environmental education.
Photo Credits: ICPRB and Google Maps