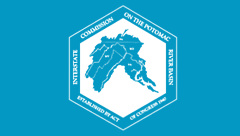 On November 30 the Interstate Commission on the Potomac River Basin (ICPRB) will hold its quarterly business meeting.  The meeting will begin at 9:45 a.m. The Section for Cooperative Water Supply Operations on the Potomac (CO-OP) will begin at 8:30 a.m.
During the business meeting, the Commissioners will see a presentation on the recent ICPRB report, Rapid Response Survey of Cyanobacteria Toxin Levels Downstream of North Fork Shenandoah River Algal Bloom After Tropical Storm Ida, 2021, which investigated downstream toxin levels after Hurricane Ida blew through and scoured the harmful algal blooms from the North Fork Shenandoah. Commissioners will also get updates on the Land Prioritization Mapping for Protecting Drinking Water Quality project, ICPRB's evolving Justice, Equality, Diversity, and Inclusion policy, the recent resolution to review water supply agreements, and more of ICPRB's work over the past quarter.
The draft agenda and historical meeting documents can be found on the Business Meetings page.
The meeting will be virtual. Members of the public who wish to view the proceedings should Contact Us no later than close-of-business on Wednesday, November 24. You will be sent a link to the meeting.