The Shenandoah system is fishing well. The water is clear and both the North and South forks are fishable. Water clarity will call for some stealth, and the low light of early morning and evening will increase the odds of a nice trout or smallmouth bass. Good reports of smallmouth bass are coming from the Bentonville-Front Royal area of the South Fork. Sunfish, catfish and largemouth bass round out the opportunities. The mountain trout streams are warming with some hatches occurring.
Anglers on the South Branch Potomac are finding some nice smallmouth bass in the deeper pockets as fish concentrate in these areas.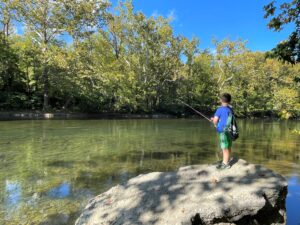 The North Branch Potomac and Savage rivers continue to produce rainbow and brown trout. Water temperatures are rising, and ICPRB biologists are tracking some North Branch trout to observe their response to warming water. The study can help inform management decisions on coldwater releases from Jennings Randolph and Savage reservoirs.  Most of the action is upstream of Pinto.
The upper Potomac River is in summer mode, with decreasing water levels and some stain. Water temperatures are about 80 degrees. Visibility is about two feet in most areas. Early morning is a good time to try some topwater poppers and buzzbaits. The section from Edwards Ferry to Dickerson is fishing well. Lander, Point of Rocks with its stargrass beds, and Brunswick are good access spots. Rock gardens and structure are great locations and the fish are spread out. Soft plastic ploppers and tubes are good baits to explore rocky bottoms. The Monocacy River is fishing well from the mouth to the Route 28 crossing. Smallmouth bass sunfish, and channel and flathead catfish are all biting.
In the tidal Potomac, the lack of grass beds has anglers hitting docks and wood structure on moving tides with a variety of soft plastic and crankbaits. The 80-degree water is carrying some stain. The visibility of about two feet improves near any grass beds. The National Harbor area is producing some largemouth bass. Anglers are finding bass in the cuts and channels around Belle Haven. Piscataway is producing some nice fish. The deep channel that runs past Fort Washington is heaven for those seeking monster blue catfish, whose population continues to grow at a concerning rate.
The fish may be somewhat wary in the area after last weekends bass tournament. Run out of Mattawoman Creek, 149 anglers competed and many caught good numbers of fish. The grassbeds downstream were heavy targets for the pros. That said, the pads and other vegetation in the creek is a good place to look for bass and snakeheads. Downstream, Pohick Bay, Aquia Creek, and Dogue Creek have nice beds of grass worth targeting, as well as some of the mats of broken grasses that create floating islands that hold fish underneath. Snakehead fishing is very active at the heads of tidal creeks with grassbeds in shallow water. Floating a frog lure over the beds on a moving tide can produce some great topwater strikes, that require some finesse and braided line to get them out of the thicket.
Anglers in the Colonial Beach area are enjoying very good striped bass fishing this year, and it may be related to the huge numbers of menhaden (bunker) and other baitfish frequenting the area. Anglers are trolling, jigging and live-lining for the fish. A small number of them have been caught with sores but overall the fish seem to be active and healthy. Anglers also are catching some white perch, and croaker. The water continues to carry a green tint, but no algae blooms have been reported.
Near the river's mouth, anglers continue to report very good catches of stripers at the mouth and up in the St. Mary's  River. The channel from St. Georges to Piney Point is a hot spot. Some nice fish have been taken around Cobb Island. Anglers are trolling channel edges, jigging, and live-lining spot, which are readily available along with other baitfish. The warming water will begin to stress striped bass, and anglers are encouraged to handle fish carefully so that returnees can live to fight another day and contribute to future stocks. Some cobia, croaker , and red drum are being taken and some anglers are finding some small flounder. Some dolphins are beginning to show up at the river's mouth. Crabbing remains a slow process.
We are grateful to the many river watchers who contribute to this effort. Particular thanks go to the state departments of natural resources, National Bass Guides, Shallow Water Fishing Adventures, and  Machodoc Creek Marina, Inc.