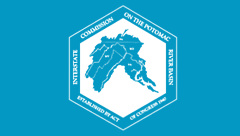 About the Basin, August 18, 2017
If you were not lucky enough to book a spot on the Royal Caribbean's Total Eclipse Cruise to watch Bonnie Tyler belt Total Eclipse of the Heart at the moment the moon blacks out the sun in Monday's solar eclipse, there are plenty of local eclipse celebrations to choose from.
Plan on taking a selfie with the moon? You know looking directly at the sun during an eclipse can create irreparable eye damage, but it could damage your phone as well. You might want to use those solar glasses for your phone's camera and check out NASA's guidelines for safely photographing the eclipse.
In the Potomac River basin, the moon will start to show a shadow around 1:00pm, peak between 2:00-3:00pm and be over by 4:00. Exact timing depends on your specific location. Many state and national parks are holding special events to commemorate the occasion. Here are some of the events going on around the Potomac River basin.
Virginia:
Many Virginia State Parks, including Caledon State Park, are holding special activities to learn more about the science behind solar eclipses and providing a limited number of commemorative solar eclipse glasses. They invite the public to bring a lawn chair or picnic blanket to enjoy the astronomical show.
For a real adventure, head out on the Potomac River for a Solar Eclipse Kayak Tour at Algonkian Regional Park in Sterling, Va.
Maryland:
"Dark Sky" parks are areas with little light pollution and are ideal of eclipse viewing. Point Lookout Park, where the Potomac River meets the Chesapeake Bay, is one such park. Although they are not holding a special event, it would be a great place to watch eclipse.
Rocky Gap State Park is offering a hike, a hula hoop workshop, and yoga class in celebration of the solar eclipse.
Rockville Science Center and Gaithersburg Community Museum are hosting a free, fun viewing party at Observatory Park. Science projects, free solar viewers, and hands-on activities are planned.
Many more fun events are planned in the area. Check out your local park, museum or college for other viewing parties!