Maryland is considering some changes to fishing regulations. Public comment is invited.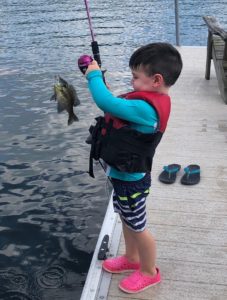 The Shenandoah system is fishing well. On the South Fork, anglers are finding some nice smallmouth bass, sunfish, and catfish between Luray and Front Royal. Some musky and carp are in the mix. The mountain trout streams are running well and clear with some hatches occurring.
The South Branch Potomac is pleasing anglers with good flows and quality smallmouth bass and sunfish particularly around Petersburg, W.Va. The North Branch Potomac and Savage rivers continue to produce rainbow and brown trout. Water temperatures are in the mid-50s. Stocked areas still have a few fish.  Most of the action is upstream of Pinto.
The upper Potomac River is running somewhat low and clear. Nice smallmouth bass are being caught in many areas. There is a good topwater bite in the early morning and evening. During the day, anglers are focusing on ledges and rock gardens in the middle of the river. Good access can be found in Brunswick, Point of Rocks, Whites Ferry, and Lander. Anglers are using soft plastic baits fished slowly down in the rocks and structure that creates eddies in the flow. Stick worms are a favorite with some anglers. A number of anglers have said that the smallmouth bite has been some of the best in recent memory. Flathead and channel catfish are biting, and few anglers have reported catching some large musky.
In the metro area, anglers are picking up some nice bass upstream of Key Bridge. Bridge pilings in the District are being targeted for a mix of largemouth, smallmouth, and striped bass. Plastic baits dropped around the pilings are producing some nice fish. Docks and other structure also hold fish during the day, when they can hide form the bright sunlight. The Washington Channel is producing bass at the seawall and in the grass beds.
In the tidal Potomac, Anglers are finding bass along the docks at National Harbor with soft plastics, buzz baits, and crank baits. The tidal guts and channels around Belle Haven Marina are producing some nice bass and snakeheads. Blue catfish in the 40-pound range are common catches in the channel off Fort Washington, and just about everywhere else that anglers probe with cut bait. (Using blue cats as cut bait is a good way to help control the population of this huge fishery.) The spatterdock and other grass beds in Mattawoman Creek are popular. Grass beds become much more lush downstream of Pohick Bay, and become a focus for largemouth bass. Hollow frogs and other topwater baits dragged across the beds bring strikes. Crank baits, plastics, and ploppers can catch fish at the edges of the beds, particularly in moving water. Spawning snakeheads are thick in the heads of tidal creeks with good grass.
Anglers in the Colonial Beach area are seeing some of the best striped bass action in years. Anglers are casting jigs and trolling to catch fish, with anglers getting their quota in a couple of hours of effort. The stipers seem to be reacting the huge numbers of baitfish, primarily bunker (menhaden). Successful anglers will keep an eye on the sky and water to find schools of baitfish that the stripers are concentrated around. White perch and croaker are being caught as well. Visibility is good and the water carries a green stain in some areas.
Near the river's mouth, anglers are reporting good catches of striper at the mouth and up in the St. Mary's  River. Much like in Colonial Beach, anglers are taking fish by jigging, trolling, and live-lining spot. Fishing the steep edges of the channel from St. Georges to Piney Point is a perennial favorite. Anglers finding schools of baitfish around Smith Point are taking some nice stripers. The catch incudes some red drum and speckled trout. Even at times when nothing else is biting, there always are blue catfish everywhere. Crabbing is slow.
We are grateful to the many river watchers who contribute to this effort. Particular thanks go to the state departments of natural resources, National Bass Guides, and Shallow Water Fishing Adventures.