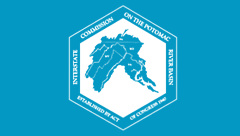 ICPRB Business Meeting, August 30, 2016
The ICPRB Commissioners will meet for their fourth quarter business meeting at the ICPRB office in Rockville, Md., on August 30, 2016.
The quarterly meeting for the ICPRB Section for Cooperative Water Supply Operations on the Potomac River (CO-OP) also will be held. The CO-OP works with the metropolitan Washington water suppliers to ensure adequate water supplies during droughts and plans for future needs.
Agenda items for the CO-OP meeting include a review of recent activities and finances. A review of the  water supply alternatives study and the workplan and budget for the coming fiscal year will be covered.
The ICPRB meeting will include a review of the past fiscal year's activities, an update on current algae monitoring efforts and the multi-year comprehensive watershed plan project.
The commissioners also will hear about the Federal Agencies Coordination Summit, held on August 29. The summit will bring together many of the federal agencies working on water issues in the basin to learn about ICPRB's comprehensive water resources plan efforts and identify how collaboration can strengthen the future of water resources in the Potomac. The federal agency representatives will highlight their current activities and goals in the basin, including water supply, water quality, and other natural resources efforts. Discussions also will explore how their agencies can better coordinate activities in the basin.
Representatives from the U.S. Environmental Protection Agency, its Chesapeake Bay Program, the Department of Agriculture-Natural Resources Conservation Service, National Oceanographic and Atmospheric Administration, U.S. Army Corps of Engineers, Department of Defense, U.S. Geological Survey, National Park Service, and the Naval District of Washington will participate with the state agencies of the Potomac River basin.
The ICPRB business meeting is open to the public. Space is limited, so please contact us to reserve a seat.