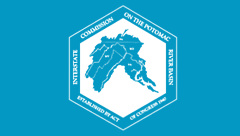 Few angling reports have come from the upper Potomac, its North and South branches, and the Shenandoah. All of these streams continue to run very high and muddy. Some anglers are reporting some smallmouth bass and catfish on the Shenandoah, although the river level near the mouth was again rising strongly.  Freshly stocked trout remain in the North Branch Potomac, and several insect hatches are occurring.
The upper Potomac remains very high and muddy, and the weekend rains may bring more debris into the river. There are some reports of smallmouth bass and catfish catches, but Saturday may be better spent thinking about future river trips rather than actually going.
Conditions on the tidal Potomac improved during the previous week, although the rains will again reduce visibility, which had increased to about two feet. Good growth of Eurasian milfoil beds will be targeted by anglers once conditions improve. The rain and mud seems to have kept the hydrilla from growing quickly. Hydrilla's dense structure makes it harder to fish. National Bass Guide Service recommends targeting milfoil beds on outgoing tides.
Some fish are being taken at the Washington Channel wall grass beds, and catfish and some largemouth bass can be found around bridge pilings and wood structure. The structure off shore of the Blue Plains treatment plant is holding fish. Further downstream, the grass beds at the mouths of tidal creeks and in the Potomac's main channel are holding some bass that are finishing their spawning mode. Topwater lures are getting some strikes during low light. The lower Potomac has been less affected, and anglers are taking some nice striped bass at the channel edge from St. George's Island to Piney Point. Anglers are chumming, trolling, and jigging for the fish. Lots of white perch and few croaker are being caught. Crabbing is slowly improving.
If you are homebound this weekend, check out a new Maryland DNR fishing too, Click Before You Cast. The web page provides a way for anglers to better target specific species based on water quality data.
We are grateful to the many river watchers who contribute to this effort. Particular thanks go to the state departments of natural resources, National Bass Guides, River and Trail Outfitters, and White's Ferry.