Potomac Basin Reporter Newsletter
Interstate Commission on the Potomac River Basin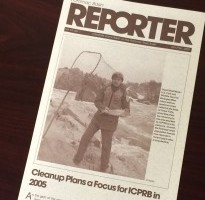 The Potomac Basin Reporter newsletter is a resource on water quality issues for the residents of the Basin. It was published in paper format from 1945 until the final paper newsletter went out in 2012. In 2017, ICPRB re-introduced the Reporter in an electronic format.
Previous issues can be found below:
2017: Winter│Spring│Summer│Fall
Please sign up for the Potomac Basin Reporter and our sister-publication, the Potomac News Reservoir, to receive updated news on events in and around the Potomac River basin.
Archive (Paper Format)
An archive with PDFs of the paper newsletters from 2001-2012 is available below. Click on a year to explore article titles within the Reporter issues or download the newsletter. You may also use the search bar in the upper right of our website to browse topics that might appear in the Reporter.
2012│2011│2010│2009│2008│2007│2006│2005│2004│2003│2002│2001
Please contact us to receive an electronic copy of a newsletter published prior to 2001.
---
Looking for up-to-date information on the Potomac River basin? Like us on Facebook, follow us on Twitter, and sign up for our Newsletter!