IN THIS ISSUE
An Unwelcome Bloom
Growing and persistent blooms of filamentous algae in some river and stream segments have restricted or eliminated their use for recreation. Chronic algae blooms also can impact water quality, stream ecology and use as a drinking water source. Chronic filamentous algae blooms on West Virginia's South Branch Potomac and Cacapon rivers is the subject of a multi-year ICPRB study to document segments in the two rivers with chronic blooms, understand the reasons behind them, and assess ecological effects. The answers gained will indicate possible restoration actions. The project is sponsored by the West Virginia Department of Environmental Protection (DEP), which is looking for answers about the blooms on these two very popular waterways.
The ICPRB's involvement in the project began in 2012, with surveys of three rivers, the South Branch Potomac, Cacapon, and Shenandoah rivers. The project started with a list of sites for which DEP had received complaints from stakeholders. As the study progressed, the lower Shenandoah  was dropped from the priority list when it did not consistently experience blooms, while additional sites were selected on the South Branch. Since 2015, the South Branch Potomac has not produced large and consistent blooms. Although the South Branch Potomac still experiences blooms, the popular recreational sites that were the subject of complaints no longer foster chronic algae blooms. Upgrades to sewage treatment and other agricultural improvements are possible reasons for the improvement.
Water chemistry, hydrology, and ecological data have been collected and analyzed at all of these sites since the project's creation. Efforts during some years were limited by weather and flow conditions, which are tied to the strength of blooms during the warmer months when they occur. In later years, the study also has made use of data loggers, small devices left in a stream that log dissolved oxygen and temperature and report levels multiple times each hour over the course of many days. This information is important because large blooms can drastically change oxygen levels in nearby water as they produce lots of oxygen during sunshine, and take up oxygen at night.
For the 2017 season, ICPRB's work will focus on six South Branch Potomac sites and eight Cacapon sites with continued physical assessments that include monthly assessments of the sizes of algae blooms from June to September. An approximately 5-mile segment of the Cacapon River around Yellow Spring, W.Va., which has the most consistent blooms, will receive a more-intensive assessment. The area, which comprises six of the Cacapon sites, also will receive enhanced water chemistry testing. Additionally, sediment and flow assessments also will be performed.
The multi-year effort has given DEP a picture of these two Potomac tributaries over time and to learn about how and why algae blooms occur. As with most good research, the study also has generated more questions. While there is no certainty to why blooms have been decreasing in some areas, research indicates that algae blooms are not just the product of too many nutrients (phosphorus in fresh water streams). Weather, stream flow, sunlight, sediments, and ecological attributes can all affect the growth of algae into blooms. "It's a complex system with many variables that can influence what grows," said ICPRB Aquatic Ecologist Gordon Selckmann. "Collecting this information can allow West Virginia to understand why these blooms consistently occur in certain areas and address these segments in the most effective way," he said.
In the end, the goal is for people to be able to paddle the rivers and catch smallmouth bass instead of long strings of algae.

How Much do you Know about the Potomac River? Take our quiz to find out!
Take the Quiz
Former ICPRB Commissioner and E.D., Herb Sachs, Passes Away
The Potomac River and Maryland's waterways lost a strong advocate and tireless worker with the passing of Herbert M. Sachs on April 12. He was 82. Sachs served ICPRB as a Maryland commissioner and executive director for nearly 30 years.
As a commissioner, Sachs represented Maryland's interests in water supply, resources, and quality. As executive director (1992-1997), Sachs led the agency's efforts in supporting the regional Chesapeake Bay Program, with staff participating in several work groups and
subcommittees, providing Potomac data and other support.  In these years, ICPRB led the efforts to reallocate water supplies at the Jennings Randolph Reservoir as well as cooperative water quality and law enforcement efforts for the reservoir and the North Branch Potomac. The North Branch Task Force, a group of stakeholders and officials facilitated by ICPRB that gives stakeholders a voice in management decisions is an offshoot of the project. He was at the helm when ICPRB embarked on its successful effort to restore American shad to the Potomac River
Other actions under Sachs tenure included the Potomac Visions project, which guided communities in the upper basin in a series of surveys and other activities to produce a vision for the future of their local watershed. Groups were then assisted with support in forming watershed groups that could pursue restoration and conservation activities to reach their vision. The Commission had an international emphasis at the time, with staff traveling to China to help build water monitoring capacity. The ICPRB also entered into a sister river agreement with a group representing the Ara River that flows through Tokyo, Japan. The agreement is still active with periodic exchanges. Through his tenure both as an executive director and twice as a Maryland Commissioner, Sachs brought a calm, can-do attitude to the agency, and his constructive, inclusive nature were well-tailored to helping the Potomac jurisdictions work together.
Sachs' work at ICPRB was in addition to a very productive career with the Maryland Department of Natural Resources and Department of the Environment, holding upper level positions in both agencies. He will be missed by all. Read more about Sachs in his obituary.

Spring Cleaning on the Potomac
Spring cleaning is a big tradition for many, and in the Potomac River watershed, it has brought a growing number of residents to remove trash and debris from their local waterways for 28 years. In that time, the annual Potomac River Watershed Cleanup has grown from a single site—the Potomac shoreline of Hard Bargain Farm, the home of the Alice Ferguson Foundation—to about 250 sites touching each of the basin jurisdictions.
The ICPRB is one of many organizational partners involved in the cleanup and is one of the oldest, having assisted for 25 years.  Assistance has included identifying and sponsoring sites, providing outreach and publicity, distributing supplies, and other tasks. The ICPRB also participates in the Ferguson Foundation's larger Trash-Free Potomac initiative.
The 2017 cleanup kicked off on April 8, at 110 sites. Cleanups at additional sites will occur throughout April and May. Preliminary reports from some of the sites have already tallied more than 1,000 volunteers removing more than 10,000 pounds of trash.
This year's effort, when completed, should be on par with 2016, when nearly 10,000 volunteers collected almost 335,000 pounds of trash at 265 sites. The cleanup's effect on the watershed is likely greater than reported, as some sites don't report cleanup data.
The cleanup serves as the public focus of a suite of efforts designed to stop littering of our waterways. Over the years, the Foundation has conducted social research campaigns to learn about who litters and why, worked toward plastic bag bans and bottle deposit laws, sponsored anti-litter pilot projects in a number of communities and schools, and worked with local and regional law enforcement agencies to bring greater awareness of the problem, along with new laws and stronger penalties. The Foundation has hosted annual summit meetings to keep the momentum going for a clearer Potomac. The effort also brought a trash TMDL to the Anacostia watershed, only the second of its kind in the United States.
Taken as a whole, the program has many accomplishments, with components of the program bringing pressure on multiple fronts. Greater public attention on trash prompted several local jurisdictions to ban or restrict the use of plastic bags at groceries and restaurants. The bans have been linked to reductions in the amount of the ubiquitous bags found in stream beds and adjacent trees during cleanups. Other jurisdictions are considering bag bans and deposits for plastic and glass bottles.
For a while, the Potomac Watershed Cleanup adopted the slogan of Trash Free by 2013, and many local and regional officials signed on to the "trash free" pledge at annual trash summit meetings. While that goal was not reached, the effort endures and continues to set records. The same enthusiasm that created the slogan remains with the efforts of thousands of volunteers working toward a cleaner river. For more information on the many facets of the cleanup, visit the Alice Ferguson Foundation website. Keep your eye on ICPRB's Calendar of Events for future cleanups scheduled in your area.

A Different Story for Aquatic Plants in the Lower Potomac
An annual survey of aquatic vegetation in the Chesapeake Bay and its major tributaries for 2016 reported a fourth straight year of growth. The lower Potomac River, however, lost more than half its plants.
The 97,433 acres of submerged aquatic vegetation (SAV) in the annual study performed by the Virginia Institute of Marine Science (VIMS) is the greatest amount ever recorded, and is the fourth consecutive year of bay-wide increases. The 2016 assessment found aquatic plants at about 53 percent of the 185,000 acres of grasses needed to reach the Chesapeake Bay Watershed Agreement.
The acreage assessment is considered conservative since weather conditions and government flight restrictions prevented some flights. Several of the flight lines were over areas that had large plant populations in previous years.
The VIMS assessment, which has tracked plant growth since 1984, categorizes plant coverage by salinity zones. This helps connect changes in grass communities with changes in growing conditions through time, according to Prof. Robert Orth, in charge of the VIMS survey.
The bulk of the 2016 expansion came in the mesohaline, or moderately salty areas, which saw very large increases in widgeon grass (Ruppia maritima), in some cases almost tripling, since 2012. More than most aquatic plants, widgeon grass is noted for its "boom-or-bust" cycles of heavy growth followed by large die-offs.
For the Potomac, the tidal freshwater areas in and downstream of Washington, D.C. remained in good shape, and gained slightly in some areas. The saltier area of the river downstream of the Harry Nice (Route 301) Bridge, however, did not fare well last year. Widgeon and eelgrass in this lower segment of the river died back, although these same species did better upstream, Orth noted.
Professor Orth said that the environment for plants around and downstream of the Nice bridge is "very complex." Changes in salinity from drought or stormwater runoff can change water chemistry very quickly, making it hard for plants to adapt. Add to that sediment and turbidity, and the plants' resiliency is tested. He noted how hydrilla, a freshwater plant with some salt tolerance, had moved downstream into new areas during wet years, but after a few dry seasons (when salinity increased) the plants had disappeared from some Virginia embayments. The seeds from plants, and in the case of hydrilla, tubers in the sediment, can remain dormant until conditions are again favorable for plant growth.
The dynamics of the system are such that Orth would not be shocked if the lower Potomac regained this year most of the plant acreage it lost in 2016.
Spring Through the Lens
A delicate plant shoots up from the wet soil, vernal pools ripple with tadpoles, and a chick pecks its way out of an egg. Spring is here and it is time to celebrate the new life that emerges with the season. Modern technology has made it easier than ever to experience these miracles from the comfort of our home or office. Wildlife cameras, also known as critter cams, bring you up close and personal to these everyday marvels.
Wildlife camera technology has improved immensely over the years; they have evolved from grainy, silent, barely discernible images to crystal clear, high-definition videos with vibrant sound. It is now possible to see the individual, fuzzy down-feathers on the back of the grey bald eaglet and hear it's "tweet-tweet" cries to momma-eagle.
From the depths of deep oceans to the tops of tall trees, wildlife cameras bring a focus on animals that we might not otherwise see. Through a lens, we can explore the daily activities of sharks, jellyfish, bats, ribbon dragons, bison, and a vast range of birds from, hummingbirds to bald eagles.
With improvement also came innovation for their use in scientific research. In-person, scientific observation of wildlife is costly, time intensive, and can create a disturbance for the wildlife, but critter cams can give scientists the tools they need to do the research without the interruption to wildlife. From swimming with sharks to learning exactly how the chicken crossed the road, cameras have been used to advance our knowledge of animal behavior. They are also used as important resources in the classroom to teach biology, environmental science, and other STEM topics.
Critter cams are not the only way to virtually enjoy the great outdoors. Even though we at ICPRB love to see people outside enjoying the river, we know it's not always possible because of pesky things like employment and bad weather. Chesapeake Conservancy and Terrain360 partnered to provide an opportunity to explore the Potomac River (and many other places) through a virtual tour. This online platform makes it easy to enjoy your favorite spot along the river or discover an area you have never been, from the comfort of your desk chair or couch.
Here is a list of some of our favorite cameras in the Potomac basin and beyond:
Do you know of a critter cam that is not listed above? Let us know and we will add it to the list.

River Flow
River flows throughout the Potomac basin have been generally low during this winter and spring, although precipitation has started to bring river levels closer to the norm in late April. Except for January, precipitation in the basin has been below normal since October 2016, with February and March 2017 very dry. Parts of Virginia have been the hardest hit. Although recent rains have brought the Shenandoah and other Virginia tributaries higher, groundwater levels in parts of Virginia remain at or near record lows. Virginia issued a drought advisory in March, and it will likely take an extended rainy period to bring groundwater levels back to the normal range.
The graph for flow at Little Falls is important in that the gage captures the collective flow of all the Potomac tributaries before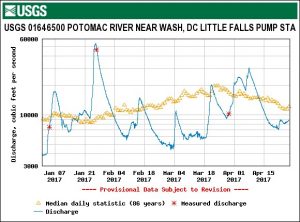 tidewater, and generally represents the hydrology of the upper basin, for which the metro area depends for water supply. The graph shows that although river flow was not far from the median at times each month, it was below median for extended periods of time.
The drier weather and highly variable spring temperatures have interfered somewhat with fish spawning, particularly migratory fish whose spawn timing is the result of water temperatures, flow, and other variables. Weather and flow can compact or expand the windows for spawning, as well as affecting the availability of food for adults and fry (juvenile fish). The lack of strong spring freshets has likely decreased nutrient loadings from runoff and that may be good news for limiting algal blooms later in the summer.
More timely information is available near the beginning of each month from the ICPRB Section for Cooperative Water Supply Operation's Water Supply Outlook.
What's New Online