How the Potomac Flats became the Tidal Basin
About the Basin – August 17, 2018
The Tidal Basin in Washington, D.C. is probably most notable for its breathtaking cherry trees that drip soft pink blossoms into the water as spring emerges. However, there is more to this appendage of the Potomac River than meets the eye.
In the mid-1800's, commerce in the popular shipping ports in the District was hampered by silt build-up along the shores. It was also a health issue. The silt build-up, known as Potomac Flats, sat with stagnant raw sewage and was a breeding ground for malaria-laden mosquitoes.
Authorities decided something needed to be done with this unhealthy eyesore in the Nation's capital.  Congress agreed it should be enjoyed by the people of the city, ordering it as "forever held and used as a park for the recreation and pleasure of people."
Around the turn of the century, the U.S. Army Corps of Engineers (USACE) developed a plan to dredge the river, create the Washington Channel (the stream of water that runs through the basin and then between Potomac Park and the mainland), and dump the dredged silt onto the remaining part of Potomac Flats. This created the East Potomac Park portion of the basin and the modern shape of the Tidal Basin that we all know and love.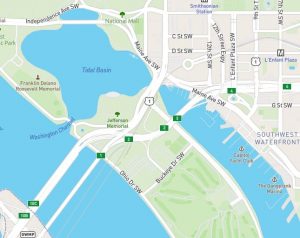 To keep silt, raw sewage, and other unwanted problems from building up, USACE installed a gate at each entrance of the basin. During high tide, the gate at the river allows water to enter the basin while the gate at the channel closes, filling the basin. As the tide ebbs, the gate to the Washington Channel opens while the gate at the Potomac River closes. Silt and other pollutants quickly drain through the channel. The Library of Congress has some diagrams of how the Tidal Basin functions to prevents stagnation and all the problems that come with it, such as algae growth, funky smells, and silt build-up.
This engineering marvel ensures that visitors from around the corner and around the world can enjoy the beautiful sites of the Tidal Basin. The Franklin Delano Roosevelt Memorial, the Martin Luther King, Jr. Memorial, and the Thomas Jefferson Memorial can all be seen along the 2-mile loop around the basin. Walking and running along basin trails are popular activities for both locals and tourists alike. Pedal boats, available for rent, can provide a unique perspective of the natural beauty in this wholly man-made structure.