Cunningham Falls State Park
About the Basin, August 10, 2018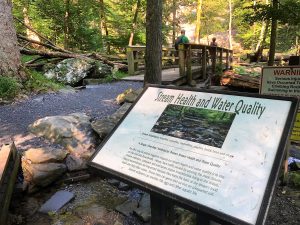 Cunningham Falls State Park, near Thurmont, Maryland, has many treasures. It is known for being the largest cascading waterfall in Maryland. Big Hunting Creek, one of Maryland's premier trout streams, runs through the park.  Swimming in the lake is a summertime tradition for many families, both near and far.
The park has many miles of beautiful hiking trails, but the most popular trail is the short, forested hike to the falls. It is stroller-friendly and great for all ages. The falls have a viewing boardwalk with benches. After enjoying the falls, head back down to lake, grab a picnic table, spread your towel on the sand and spend the rest of the day enjoying food, friends, and family while cooling off in the lake. Grills are available on a first-come first-served basis.
Check out the park map to find some primo catch-and-release fishing spots in the park.
The park is separated into two sections, the William Houck Area and the Manor Area. Check your GPS carefully before heading out to make sure you are headed to the correct area for your intended adventure. Both areas have a campground.
William Houck Area
This area has the hike to the falls, the swimming lake, and a concession stand that is open during the summer.
Come early on nice weekends because the park will temporarily close when they meet capacity.
Manor Area
Visit the Scales and Tales Aviary for an opportunity to get a close-up look at (mostly native) wildlife.
The Catoctin Mountain Furnace features a furnace that began operations around 1776. The furnace provided ammunition for the Continental Army during the American Revolutionary War.
Join park staff this Sunday, August 12, for Macroinvertebrate Mayhem (11am, South Beach Nature Center) where staff will lead a walk through a stream to discover what creatures live just below the surface.