Gravelly Point Park
About the Basin—August 24, 2018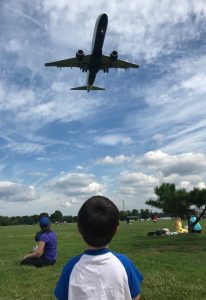 Gravelly Point Park is a favorite spot for kids of all ages for one main reason: the love of airplanes. The park is known for being one of the best places for plane spotting in the nation. The grassy strip of land is located just north of Ronald Reagan Washington National Airport in Arlington, Va. and just a few hundred yards from their runways. With your feet planted firmly on the ground, it feels like your fingers could graze the bottom of the Boeing 747's passing just above your head. The view of the underside of the planes is only complemented by the stunning skyline of our nation's capital just across the Potomac River.
Launch a boat from the ramp at Gravelly Point to get an even closer look at these flying behemoths. The strip of water that leads from the ramp to the Potomac River is located directly between the runway and Gravelly Park. Paddle across the Potomac River for a new perspective of D.C.'s famous monuments and a close-up look at the bridges that span the river.
Gravelly Point is located alongside the 18-mile Mount Vernon Trail, which runs from Theodore Roosevelt Island to George Washington's Mount Vernon Estate. This trail is a favorite of bicyclists, runners, and walkers for its smooth surface and beautiful views. The rocky shoreline is a prime spot for anglers.
It gets busy on weekends, so come early to find a parking spot or use the Mount Vernon Trail for access. Please note that the park is only accessible while traveling north on the George Washington Parkway. Bring a picnic because there are limited amenities.