Lower Potomac Map Downloads
Interstate Commission on the Potomac River Basin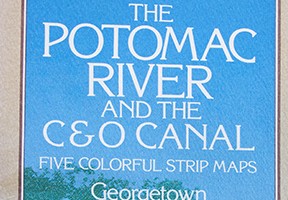 Maps of the C&O Canal
ICPRB has created fun maps of recreational access to the Potomac River. Each map contains geographical information, historical details, and other fun facts about our Nation's River.
Maps of the Lower Potomac River are available for download below. A set of the Upper Potomac River maps are printed on elegant, water-resistant paper and are available for purchase.
Lower Potomac River Maps
The Potomac above Washington, D.C. is a fascinating river. Leaving the confines of the city, it quickly sheds its urban character and becomes a near wilderness, full of history and wildlife. Alongside the river for 184 miles winds the Chesapeake and Ohio Canal, an engineering milestone of the 19th century. Begun in 1828, the canal took two decades to complete. When finished, it boasted 74 locks, 11 stone aqueducts, and seven dams to feed the waterway from the Potomac. Maintained by the National Park Service, the canal is one of the best ways to reach the Potomac for recreation. However, floods have long ravaged the canal. Today, only the 22 miles from Washington, D.C. to Seneca (maps 1-4) are watered. The remaining sections are dry.
These maps span 92 miles of the most popular part of the river and canal above Washington, D.C. Each map is available for downloading and printing in a convenient PDF format. Each one shows a portion of the Chesapeake and Ohio Canal in the Lower Potomac River area. The "Introduction" page gives more detail on individual maps.
Upper Potomac River Maps
Elegantly printed map sets of the Upper Potomac River from Shepherdstown, W.Va., to just upstream of Cumberland, Md. area are available for purchase.