Map Downloads
Interstate Commission on the Potomac River Basin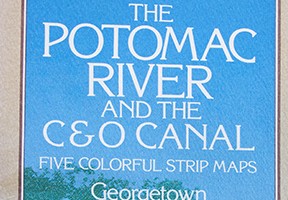 The Potomac above Washington is a fascinating river, which quickly sheds its urban character and becomes a near wilderness, full of history and wildlife. Alongside the river for 184 miles winds the Chesapeake and Ohio Canal, an engineering milestone of the 19th century. Begun in 1828, the canal took two decades to complete its 74 locks, 11 stone aqueducts, and seven dams to feed the waterway from the Potomac. Maintained today by the National Park Service, the canal is one of the best ways to reach the Potomac for hiking and biking along its banks. Floods have long ravaged the canal, however, and only the 22 miles from Washington to Seneca (maps 1-4) are watered. These maps span 92 miles of the most popular part of the river and canal above Washington.
Each map listed below shows a portion of the Chesapeake and Ohio Canal in the Lower Potomac River area. Elegant printed map sets of the Upper Potomac River area are available for purchase.
Map 1 and Map 2 include Great Falls–the river's spectacular change from a free flowing river to a tidal estuary at Little Falls.
Map 3 and Map 4 include Seneca and the Seneca slackwater area, popular for recreation behind one of the canal dams.
Map 5 and Map 6 take you around Point of Rocks, where the B&O Railroad fought a bitter legal battle with the canal company.
Map 7 and Map 8 go through the Blue Ridge and the Potomac's confluence with its great tributary, the Shenandoah River at Harper's Ferry.
Map 9 and Map 10 include areas of the Potomac that saw great bloodshed during the Civil War battle at Antietam.