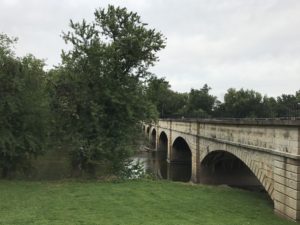 The Monocacy Aqueduct has a storied past. In its long history, it was used as an important transportation route for goods, goods, animals, and arsenals. Placed at the mouth of the Monocacy River, it was a vital passageway during times of peace and war. Thanks to a recent stabilization and reconstruction effort by the National Park Service, you can still see the structure as it was originally constructed almost two centuries ago.
The aqueduct spans 560 feet across the Monocacy River, connecting the 184.5 miles of the C&O Canal towpath from Cumberland, MD to Washington, D.C. The trail on the canal is flat and easy, making it especially nice for families with bikes, strollers, and bike trailers.
A boat ramp at the Monocacy side of the aqueduct is the final exit point for boaters on the Monocacy Scenic Water Trail and a popular entrance point for anglers.
There is ample parking and a restroom available should you need it.