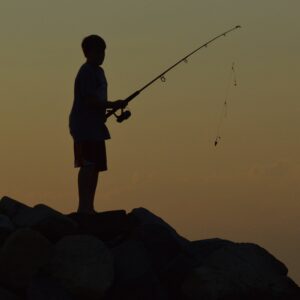 The holiday weekend will see greater numbers of people recreating on and along the river. For many, this will be a last chance to get out before schools open and vacations end. In addition to sharing the river with more recreationists, anglers are confronted with a slower time of year. Rivers are low and seem even lower in areas with extensive aquatic grasses. The water is warm, and fishing has slowed. Both anglers and fish are waiting on the shorter days and cooler water temperatures that will bring an active fall season.
The Shenandoah system's North and South forks are low, clear, and fishable. The summer pattern spreads fish out. Anglers will find the best fishing in the early morning and hitting shaded current areas during the day. Anglers are finding smallmouth and catfish. The mountain trout streams in the national park are low but wary trout will react to evening hatches of insects and moths flying around the streams.
In the South Branch Potomac, smallmouth bass are sluggish but can be taken by stealthy anglers around Petersburg. The river also is giving up some catfish.
The North Branch Potomac and Savage rivers are at their usual lull during this time of year, although stealthy anglers are still taking trout in the management areas. The ICPRB trout monitoring program on the North Branch is continuing with good success in tracking tagged trout. The trout's movement through the system can provide data needed to inform management options.
The upper Potomac River has been very productive this season. Anglers are still taking some nice smallmouth bass despite the very low water. Boats can still launch from the usual sites, such as Lander and Whites Ferry, but low water can limit the range from any of the spots. Large stands of aquatic grasses between Point of Rocks to Noland's Ferry makes boat travel even more difficult and wading or fishing from a kayak is an attractive alternative. Water temperatures are around 80 degrees with good clarity. Anglers are using soft plastics, spinnerbaits, and stick worms to slowly fish rocks and boulders in the river. The river is fishing very well from the Mouth of the Monocacy downstream. Anglers can expect to catch 15 or more fish in a day, with the chance for a 20-inch fish. Live and cut bait will lure channel and flathead catfish.
In the metro area, smallmouth bass are being caught in the Key Bridge area, and there are some reports of catfish and smallmouth around Fletcher's Boat House. Others are finding some fish in the vicinity of the Kennedy Center. In the tidal Potomac, anglers are focused on bridge pilings, riprap, and other structures. Anglers are using small platics, stickworms and small crank baits to probe shaded areas. The growing hydrilla bed edges provide another target. Largemouth, smallmouth, and some striped bass can be taken in Washington Channel grass beds and channel drop off. The lower Anacostia grass beds and armored shorelines hold some bass, snakeheads, and catfish. The Blue Plains area and adjacent spoils are holding some largemouth bass. Some nice bass are being found in the spoils area and the docks at National Harbor.
The tidal Potomac is fishing continues to fish nicely for late summer. It is important to fish moving water and early in the morning. Night fishing is not a bad idea as the water cools down from the day. Fish will be holding to structure and will be in shade during the day. The usual areas are all holding up well. 'the mouth of Piscataway Bay is yielding largemouth bass, and the nearby channel at Fort Washington is a blue catfish paradise. Mattawoman Creek aquatic plants are holding bass and snakeheads. Pohick Bay has enough grass and structure to explore for days for bass. Snakeheads are at the heads of tidal creeks. The grass stands in the region are beginning to wind down, and clumps are breaking off to form floating stands of dead grass that are worth fishing. The shade provided by the mats hold fish, which are feeding off the crayfish and other creatures holding in the mats. plastics, stickworms, and small crank baits are  offerings of choice. Lures should be fished very slowly, and anglers must focus on the light bite for a good hook set.
Fishing activity around Colonial Beach is slow, but anglers are taking some striped bass, Spanish mackerel, and bluefish. The dry weather has brought salty water up the river, and sea nettles are very thick in some areas. The bottom for the main river channel has very low dissolved oxygen, so fishing won't be as productive below 15 feet. Blue catfish are always available on live or cut bait.
Near the river's mouth, anglers are finding Spanish mackerel, bluefish, and red drum. Croaker, white perch, and kingfish round out the angling menu. Bluefish are everywhere. Anglers are casting in the shallows for speckled trout. And of course there are blue catfish. Crabbing is slow.
Be careful on the water this weekend. Be mindful of the hazards of abundant sun and high temperatures on both you and your quarry. Handle all fish to be returned quickly and with care. This report is the last for this season. We would appreciate any feedback on this service so that we can make it more useful. We wish all a good fall, and many more enjoyable hours on the river. As always, contact ICPRB with questions about the river and its many uses.
We are grateful to the many river watchers who contribute to this effort. Particular thanks go to the state departments of natural resources, National Bass Guides, Shallow Water Fishing Adventures, and  Machodoc Creek Marina, Inc.