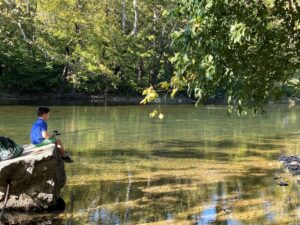 The Shenandoah systems' North and South forks remain clear and fishable. Recent rains have bumped water levels slightly but they will quickly return to normal for this time of year. The rains will moderate water temperatures somewhat. Both the North and South forks of the Shenandoah are producing smallmouth bass, catfish, and sunfish. The fishing is slow, a typical summer. Officials continue to monitor the North Fork for effects from harmful algae blooms. The ICPRB is assisting in this effort. Daybreak and dusk are the best times to fish. A variety of lures can be effective if fished slowly and carefully. Mountain trout streams are low but fishable.
Low water and higher temperatures are making for a slowdown in fishing along the South Branch Potomac. Anglers report some smaller smallmouth scattered throughout the system.
The North Branch Potomac and Savage rivers are fishing well in the trout management areas. Water temperatures have moderated from the storms, bringing some relief for fish and anglers. The ICPRB staff are continuing to cooperatively monitor fish and conditions in the North Branch to inform efforts to improve the productivity of these important fisheries.
The upper Potomac River continues to fish well. The summer pattern has bass spread out, and smaller fish seem to be the most active. Water temperatures are holding in the low-80s. Smallmouth bass and channel catfish can be caught from any of the major access points along the river, including Point of Rocks, Lander, and Whites Ferry. As grass beds continue to grow low summer and fall stream levels will limit the range of boats. Anglers using kayaks or canoes or wading will be able use more of the river. It will pay them to fish daybreak or dusk when the fish will be more active. Soft plastics, creature baits, and small crankbaits worked very slowly can take fish, along with stick worms worked slowly on the bottom. Look for rocks in the middle of the river or current eddies where fish wait for bait to pass by. Channel catfish and flathead catfish can be taken with live bait
The metro area has waters carrying some mud and stain from recent storms with water temperatures in the mid-80s. Fish in the early morning and evening. Washington Channel's grass and drop-offs harbor bass.  Bridge pilings throughout the district provide good targets. Cast plastics or crankbaits to the shady areas of the pilings to entice a strike. Buzzbaits and other surface lures can bring nice strikes in low light. Some nice snakeheads are being taken in the lower Anacostia, along with channel and blue catfish.
The tidal Potomac is in typical summer mode with temperatures in the mid-80s, with slow fishing. Moderating temperatures will make it a little more pleasant for anglers, but fish will still be sluggish. Blue and channel catfish will continue to take live or cut bait fished in deeper holes or channel bottoms. A boat or two can usually be seen along the channel near Fort Washington in search of 40- plus pound blue cats. Bass anglers are finding some fish at the mouth of Piscatway and in the spatterdock and lilies in Mattawoman Creek. Anglers are sometimes crowding the grass beds downstream. Pohick Bay is a popular spot with lots of habitat. Dragging a floating frog lure across the beds at low moving water can bring exciting strikes. At higher water, anglers can probe the bed edges with a variety of buzzbaits, crankbaits, and plastics.  The snakeheads are in the grass as well, with some protecting their young after recent spawns. Aquia, Chicamuxen, and Pomunkey creeks all have extensive grass beds.
Fishing activity around Colonial Beach remains slow. The mainstem Potomac remains closed for striped bass fishing. Anglers are finding some large white perch. Catfish are in the main channel bottom. Sea nettles continue to encroach on the region. A good population of spot and baitfish, portend a nice fall season for stripers. Crabbing is improving.
Near the river's mouth, anglers are finding large spot, and white perch, Anglers are finding Spanish mackerel and large red drum around Cedar point. Speckled trout are being taken around aquatic grass in the morning and evening. There are reports of a few Cobia near Point Lookout Crabbing is getting much better. Blue catfish are always available.
Be careful on the water this weekend. Be mindful of the hazards of abundant sun and high temperatures on both you and your quarry. Handle all fish to be returned quickly and with care.
We are grateful to the many river watchers who contribute to this effort. Particular thanks go to the state departments of natural resources, National Bass Guides, Shallow Water Fishing Adventures, and  Machodoc Creek Marina, Inc.