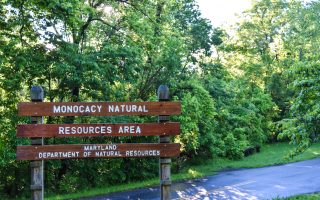 Just on the border of Montgomery County, Md., In the southeast corner of Frederick County, sits 1800 acres of bucolic countryside known as the Monocacy Natural Resource Management Area (NRMA). Search the internet for this spot and you will not find much information. Staff at the Maryland Department of Natural Resources is working hard to change that. "We are in the process of revamping the trail system to create a 7 to 8-mile loop of different trails," says Shea Niemann, Assistant Manager of Seneca Creek State Park, which is tasked with maintaining the area.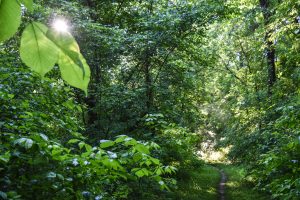 Maps, trail clearing, blazes (colored marks that help a hiker find the trail), and more are in the works for this gem in the rough. Two historic spots will be highlighted along the newly created trails: an historic lime kiln and lime quarry, which were used to build the Monocacy Aqueduct. Although working with a small staff, Niemann hopes to have this work completed by the end of summer.
The current unmarked, roughly maintained trails have not stopped the hikers, hunters, and horseback riders though. Park staff encourage multi-use recreation. "We educate the hunters and the hikers to share the park," stated Niemann. This includes advising hikers to stay on the trails and wear orange during hunting season.
A parking lot is located along Route 28 (6567 Dickerson Road, Dickerson, Md.), just south of a picturesque bridge that crosses the Monocacy River shortly before it empties into the Potomac River. A boat launch into the Monocacy River is located off Park Mills Rd.