When is a forest more than a forest? When it is managed specifically as the source of drinking water for an entire city. Hence, Frederick Municipal Forest is more than a forest. It provides clean, fresh drinking water for the 70,000 people who live downstream. Do you need more of a reason to love it? The well-maintained labyrinth of trails is a locally known secret to many hiking and mountain biking enthusiasts.
"The Frederick Watershed is a gem, a forest that protects the water supply and critical habitat for 22 threatened and endangered species, while providing a backcountry experience just outside the city," says Jenny Willoughby, Sustainability Manager for the City of Frederick.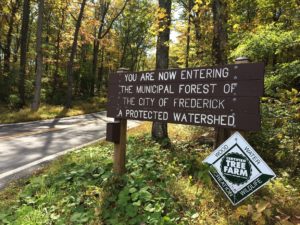 Located along the ridge of Catoctin Mountain in western Maryland, the forest is accessible off Gambrill Park Road. It is also a short drive from the charming town of Frederick, Maryland. Although camping is not allowed in the Frederick Municipal Forest, Gambrill State Park is just down the road and provides a variety camping options.
Join the Interstate Commission on the Potomac River Basin and the City of Frederick for a guided hike through the Frederick Municipal Forest on Saturday, June 8th.  The hike is part of ICPRB's Walk in the Woods Series and the City of Frederick's Sustainability Committee's Green Lecture Series.