Cedarville State Forest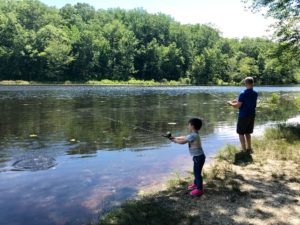 The Maryland Forest Service manages 214,000 acres of forest spread among 13 different State Forests.  At 3,510-acres, Cedarville State Forest is one of the smallest, but not the smallest, of these managed forestlands.
Before European settlers arrived, the Piscataway Indian Tribe would travel to this area of Maryland to enjoy the cooler climate and plentiful hunting and fishing during the summer months. On the fourth Sunday of the month (other times by appointment), stop by the Piscataway Indian Museum and Cultural Center in the nearby town of Waldorf to dive deep into the history and culture of the Piscataway Indians and other native people.
The headwaters of Zekiah Swamp Natural Environment Area are found within Cedarville State Park. The swamp drains into the Wicomico River, a tributary of the Potomac River. This area has been claimed to be one of the most significant ecological areas in the Chesapeake Bay watershed.
The Cedarville State Forest campground has 27 family camping sites. Twelve of the sites include an electric hookup and several water spigots are located throughout the campground. Dogs are allowed throughout the campground. There are also sites especially reserved for youth group camping and equestrian camping.
Picnic tables are located throughout the area on a first-come first-served basis. Two pavilions are available for rent for large groups.
Fishing and hunting are allowed (within designated areas and with the correct license). A fishing pond, with benches and shade, is stocked with bluegill, catfish, sunfish and bass.
There are 19-miles of hiking trails throughout the forest, including mountain biking and equestrian trails.