Plan a Summer River Sojourn
Interstate Commission on the Potomac River Basin
What is a River Sojourn?
A River Sojourn is an organized float trip on a waterway with stops for environmental and educational programs, official ceremonies and dedications, community and environmental restoration events, meals, camping, games and fun!
Each sojourn event can be as unique an experience as the stream it is paddled on and the individuals participating in it.  Floats are usually two to eight days in length.  They can have from a few dozen to over 100 participants and take place on water bodies ranging from small streams to mile-wide rivers.
Why Should I Plan a River Sojourn?
Through paddling in, reading about, or meeting with a river sojourn, the public understands the need for stewardship, restoration, and conservation of your river's resources.  The participants especially develop a bond and sense of stewardship with the river.  An annual sojourn can be a tool to recruit and train watershed residents to be watershed stewards.
A sojourn can be an effective tool in:
Raising awareness about your river, its many values, and the issues affecting it;
Educating communities about natural and cultural resources;
Promoting public access to the water;
Encouraging political commitment to watershed stewardship; and
Enhancing community involvement in river corridor restoration.
Developing Your Goals and Budget
To get an idea of the expenses and difficulties in planning your river sojourn, imagine that you are planning a wedding.  Now multiply the effort (and sometimes money) that goes into planning a wedding by the number of days you plan on holding your sojourn.  Now you have a rough idea of what to expect.  But just as there are many types of weddings (depending on your budget) there are also many types of river sojourns.
Goals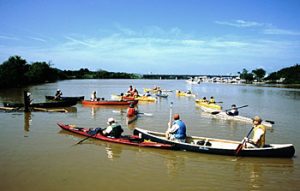 You may be putting on a sojourn as a retreat for your board and staff, or as a public outreach and education event open to the public.  You may want to travel a specific portion of your river or stream—one with particularly high scenic value or you may want to travel the river's length to get to know the whole water body.  During the voyage you may be interested in training participants in methods of protecting water quality, you may be trying to identify areas to target for restoration work, or you might just be out on the river for fun.  Whatever the case, you will want to write out your specific goals and let them guide your work plan.
Some example goals:
Raise the awareness of participants, elected officials and the general public on issues impacting your river or stream;
Educate a target audience (teachers/students/volunteers) on simple activities that they can do to help protect and restore the water body;
Create a sense of pride and ownership in the river though a fun-filled voyage;
Raise money for river restoration
Keep in mind that your goals and your audience will certainly affect the cost and effort that go into planning the voyage.
Budget
Cost

As we stated above, there are many varieties of sojourns—from a two-day float trip with the board of your organization to an eight-day voyage with an average of over 100 participants each day.  Obviously your budget is going to be very different depending on the type of trip you are putting together.  Below we have outlined two sample sojourns—both lasting one week and averaging 50 participants a day.  The high-end trip spares no expense for the participants, while the budget sojourn attempts to cut costs.
High-end Sojourn*

Budget Sojourn*

• Staff salaries and indirect costs (one full-time person for six months) – $25,000
• Shirts (for participants and volunteers) – $500
• Brochure/posters – $500
• Postage – $400
• Camping Fees – $200
• Publicity – $1,000
• Decals (for boats) – $150
• Outfitters – $2,500
• Banners – $300
• Commemorative Booklet – $400
• Shuttle Vans or Bus – $1,000
• Gear Truck – $500
• Food – $5,000
• Toilets – $800
• Photo Supplies – $150
• Misc. Supplies – $300
• Programs during sojourn (music) – $500
• Travel – $1,200 TOTAL EXPENSES: $41,400*These are just sample costs.
• Volunteer staff – $0.00
• Shirts for participants and volunteers (donated) – $0
• Brochure/posters – $500
• Postage – $400
• Camping Fees (waived) – $0
• Publicity – $0
• Decals (eliminated) – $0.00
• Outfitters – $2,500
• Banners (eliminated) – $0
• Commemorative Booklet (eliminated) – $0
• Shuttle Vans or Bus (donated) – $
• Gear Truck (donated) – $0
• Food (some donated) – $2,000
• Toilets (donated) – $0
• Photo Supplies – $0
• Misc. Supplies – $300
• Programs during sojourn (donated) – $0
• Travel – $0 TOTAL EXPENSES: $5,700
Financing

The major ways of financing a river sojourn are through charging participants a fee for each day that they are on the river and through seeking out sponsors to either donate goods and services or to provide a cash contribution to the voyage.  The vast majority of sojourns are paid for using some combination of the two methods.  If possible, try to have some scholarship or reduced fee option so that you are able to offer the sojourn experience to all audiences, not just those that can afford it.
Steps for Organizing a Sojourn
The amount of time planning a sojourn varies greatly depending on the goals you have set.  For example, planning for a weeklong sojourn with a large number of participants should begin about a year before the sojourn takes place.  On the other hand, a two-day trip for a group of twenty may only take about a week to plan.  Below is a sample of the steps that go into planning a generic sojourn float trip.  Some of the steps may be unnecessary or skipped depending on your particular needs.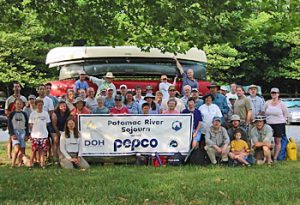 Determine the purpose and goals of your sojourn;
Determine the general trip route;
Bid out and select an outfitter/guide service for the trip;
Develop a planning team based on your trip route and goals;
Develop a sojourn budget;
Promote and advertise the sojourn;
Visit the planned route to make sure of river access, check for impediments to travel, assure eating and camping locations;
Plan the daily programs;
Seek out trip sponsors;
Register participants;
Purchase needed supplies and services;
Host sojourn event;
Send out thank you letters;
Read sojourn evaluations and evaluate sojourn with planning committee;
Create and distribute a sojourn scrapbook, website, CD-ROM, or other item to preserve and distribute the trip's memories for all participants;
Begin planning for next year's event!
It should be noted that several of these steps must be taken simultaneously.  It is crucial to have an efficient and dedicated planning team that is in constant communication to make sure the work gets done!  An in-depth manual made possible by Pennsylvania Organization for Watersheds and Rivers, National Park Service, and Pennsylvania Department of Conservation and Natural Resources is a great guide with several resources for those endeavoring to plan a sojourn.
Source: The Pennsylvania River Sojourn Organizer's Guide: An introductory manual to organizing a sojourn event on your waterway by the PA Organization for Watershed and Rivers