Water Ways: Stream Ecology and Monitoring
Interstate Commission on the Potomac River Basin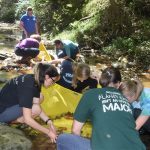 What better way to learn about stream ecology and water pollution than to collect and identify the fascinating insects, crayfish, and shrimp-like scuds living in streams? ICPRB provides presentations, hands-on activities, and resources to help teachers (middle through high school classes) start stream ecology or monitoring programs. The presentations can be done as a series or as stand-alone lessons.
Bilingual lessons in English and Spanish are available here.
Overview: Introducing Stream Monitoring
This presentation can be used to introduce stream ecology and stream monitoring to students.
Water Chemistry
Biomonitoring with Benthic Macroinvertebrates
Resources
Kindergarten-Middle School Teachers
The Cacapon Institute – The Potomac Highland Watershed School provides a game-like approach to learning about benthic macroinvertebrate identification and collection.
Audubon Naturalist Society – Green Kids provides complete lesson plans and PowerPoints for grades 4-5, covering stream habitat, monitoring procedures, and equipment.
Izaac Walton League of America – The Creek Freaks Program provides comprehensive teacher and student guides for extensive hands-on inquiries of stream ecosystems for grades 5-8.
High School Teachers
Explore and Restore Maryland Streams, Maryland Department of Natural Resources Biological Assessment of Stream Health.
Forms for doing biological and other surveys:
Maryland Streamwaders Macroinvertebrates by Tolerance Levels, KEY
Maryland Stream Health Map – view data collected on a stream near your school, using interactive maps and charts of the results
Resource Guides:

A Guide To Common Freshwater Invertebrates of North America, J. Reese Voshell, Jr. – Covers life habits and basic anatomy, color illustrations.
Guide to Aquatic Insects & Crustaceans, Izaac Walton League of America – includes dichotomous key, descriptions of functional groups (feeding methods of different benthic macroinvertebrates)