Water Ways: Stream Ecology and Monitoring
Interstate Commission on the Potomac River Basin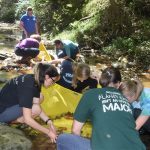 What better way to learn about stream ecology and water pollution than to collect and identify the fascinating insects, crayfish, and shrimp-like scuds living in streams? ICPRB provides presentations, hands-on activities, and resources to help teachers (middle through high school classes) start stream ecology or monitoring programs. The presentations can be done as a series or as stand-alone lessons.
Bilingual lessons in English and Spanish are available on the Bilingual Materials page.
*PDF Presentations marked with an asterisk (*) have a companion PowerPoint presentation. Please Contact us for the file. 
Overview: Introducing Stream Monitoring
This presentation can be used to introduce stream ecology and stream monitoring to students.
Water Chemistry
Biomonitoring with Benthic Macroinvertebrates
Resources
Kindergarten-Middle School Teachers
High School Teachers