Staff Education and Project Expertise
Interstate Commission on the Potomac River Basin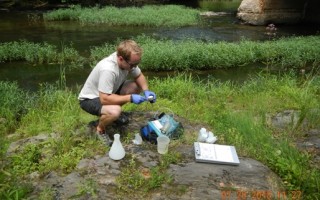 ICPRB's efforts in restoring and protecting the watershed's resources are aided by a highly educated and qualified staff of scientists, administrators, and communications professionals, many with advanced degrees. The technical ability of the ICPRB staff in watershed and related resources management is recognized throughout the region. This expertise supports a variety of actions by the ICPRB member jurisdictions in a number of areas of interest.
Administration
Mike Nardolilli, Executive Director; BSFS – Economics, JD – Law, Certificate – Executive Non-Profit Management
Wendy Wang, Senior Accountant; BS – Business Administration, MS – Accounting
The focus on water resources spans a range of activities, including managing the river for water supply during droughts, forecasts of demand, flood control, and source water protection. The water resources knowledge of the staff through the ICPRB Section for Cooperative Water Supply Operations on the Potomac (CO-OP) coordinates the water supply withdrawals of the three major metropolitan-area water utilities that rely on Potomac River water for over 400 million gallons per day to meet the thirst of the capital region. The unit conducts research to support future water supply needs of the metropolitan area, and studies how the existing system can be improved.
Water resources staff coordinate a basin-wide Drinking Water Source Protection Partnership (DWSPP) that brings local, state, and federal groups together to protect drinking water supplies for the watershed. Staff also are working to determine groundwater uses and needs throughout the basin.
Cherie Schultz, Director for CO-OP Operations; BS – Physics, MS – Civil Engineering (Water Resources), Ph.D. – Physics
Heidi Moltz, Director for Program Operations; BA – Philosophy, MS – Water Resources Management, Ph.D. – Aquatic Resources
Sarah Ahmed, Water Resources Assistant; BS – Biological Resource Engineering, MS – Civil & Environmental Engineering
Alimatou Seck, Water Resources Scientist; BS – Environmental Engineering, M.Eng. – Water Resources Engineering, Ph.D. – Environmental Engineering
Christina Davis, Senior Water Resources Planner; BS – Civil Engineering, MS – Environmental Engineering, Ph,D. – Civil Engineering
Karin Bencala; BS – Environmental Science, MS – Environmental Science and Management
Luke Vawter, Research Support Analyst; BA – Business Administration
Stephanie Nummer, Water Resources Postdoc; BS – Environmental Science and Planning, MS – Biology: Ecology Track, Ph.D. – Ecology and Organismal Biology
Work in this section includes: Water resources operations and supply modeling; Population and demand forecasting; Flood control and flood forecast systems; Acid mine drainage abatement passive treatment; Drinking water assessments (SWAP); GIS; River Flow Modeling and Time of Travel Studies; Source water protection; Groundwater; Water supply planning
Water quality issues addressed by Commission staff include supporting highly complex studies and project developments that reap benefits both for the Potomac basin and for the Chesapeake Bay drainage. Commission participation as a partner in the bay recovery aims at restoring living resources, striving to improve productivity of the ecosystem, and ensuring its vitality as a place to live, work, and recreate. Some staff members in this section work exclusively on projects with the Chesapeake Bay Program.
Carlington Wallace, Associate Director for Water Resources; BA – Biological Engineering, MS – Biological Systems Engineering, Ph.D. – Agricultural and Biological Engineering
Andrea Nagel, Senior Environmental Scientist; BS – Zoology, MS – Environmental Engineering
Michael Mallonee, Water Quality Database Manager; BS – Computer/Information Sciences, Masters Cert.-Information Technology
Staff in the aquatic life section of ICPRB work to evaluate and report on biological communities and how they respond to stream, river and estuarine conditions. Staff carefully measure and analyze aquatic life data in the Potomac basin and make management recommendations based on sound scientific data. Working collaboratively with other organizations, staff develop ecosystem indicators and analysis that is consistent basin-wide.
Claire Buchanan, Emerita Director, Program Operations; BA – Environmental Studies, MS, Ph.D. – Zoology
Mike Selckmann, Associate Director for Aquatic Habitats; BA – Biology;  MS – Environmental Biology

Rikke Jepsen, Aquatic Ecologist; BS – Biological Sciences; MS – Geography and Environmental Systems

Charles O'Brien; BA – Biology; MS – Neuroscience.
Work in the Water Quality and Aquatic Life sections includes: Survey water quality, filamentous algae, macroinvertebrates, fish, and other biota in streams and large rivers; Compile and manage databases of water quality and biological monitoring data; Model watersheds and their impacts on streamflow, water quality, pollutant transport, and aquatic life; Develop regional indices of biotic integrity (IBIs) for stream macroinvertebrates and tidal phytoplankton; Use IBIs and biological indicators to inform development of restoration goals and water quality standards; and Prepare Total Maximum Daily Loads (TMDLs) analyses and reports.
The agency's technical expertise is magnified by a communications program that extends the impacts and results of these and other projects to the region's public. Work in protecting and improving the region's resources can be effective only when the public is educated about the reasons for those actions, and their role in the preservation of those resources.
Renee Bourassa, Outreach Program Manager; BA – Law and Society, MS – Environmental Biology
Work in this section includes: Public and stakeholder facilitation; Data management; Project coordination/management; Multi-state water projects; Non-regulatory resource protection and management