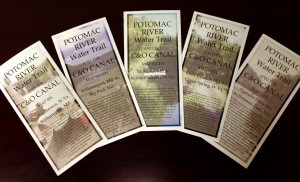 We're offering a BOGO sale on our Upper Potomac Map Sets just in time for the holidays! Buy one set of these high quality, water resistant maps for only $5 and get a second set free.
Click here to learn more about the map sets.
A valuable resource for canoeists, hikers and outdoors enthusiasts, this colorful five-map set is printed on waterproof, tear-proof paper. The maps include information on boating, public access sites, support facilities, camping and fishing sites, and picnic and parking areas. The maps are filled with cultural and historical information, safety tips, and contact information.
Click the PayPal button below to order.