Striped Bass
The Potomac River and its tidal tributaries are now closed to striped bass fishing. Maryland's tidal tributaries are closed to striped bass fishing from July 16 through July 31 to preserve the species during high temperature days. Virginia tributaries of the Potomac are closed until October 4. The tidal Potomac mainstem is closed for striped bass through August 20.
Fishing the Potomac
In the Shenandoah basin, water levels are low and clear and some areas have some algae. Anglers are finding smallmouth bass in both the North and South forks. The mainstem is fishing well with smallmouth bass, sunfish, and catfish. Mountain streams remain low and clear, so anglers will need to sneak up on these fish.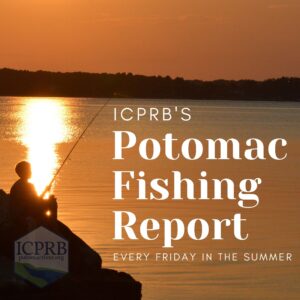 The South Branch Potomac is running low and clear, with water temperatures in the mid-80s. Smallmouth bass and catfish are taking slowly fished lures. The North Branch Potomac 's cooler waters (near 60) continues to produce some nice rainbow and brown trout downstream of Jennings Randolph Reservoir. Trout management and put-and-take areas continue to produce. The ICPRB continues to assist the Maryland Department of Natural Resources with creel surveys that will help in future management decisions.
The upper Potomac River is low, slow, and clear, with water temperatures in the low- 80s. Lander and Brunswick are popular access points that produce smallmouth bass and channel and flathead catfish. The segment from Seneca to the mouth of the Monocacy river continues to fish well, with the cooler water temperatures at dawn being best. Anglers on the water early enough will find great topwater fishing in the shallow water over rock gardens mid channel. Later in the morning, slowly fished stick worms, soft plastics, and swim baits will bring some fish. The Edwards Ferry area is fishing well. The DNR is planning for a supplemental stocking in some areas of the river. For more information, visit the smallmouth bass stocking webpage.
Fishing in the metropolitan Potomac remains slow. Anglers are having success at bridge pilings, docks, and other structure with stick worms, soft plastics, and crankbaits. The Washington Channel remains a good spot, with a mix of largemouth bass and catfish along the channel dropoff.  Hydrilla is emerging in some areas, and the edges of those patches are good bets. All baits should be fished slowly in the warm water, which is in the mid-80s.
Downstream, bass are seeking cooler water and hiding from the sun. Aquatic grasses are doing better than in previous years, with the larger be
ds downstream of Piscataway Bay. The river is likely to be crowded this weekend, as major tournaments will be fishing out of both National Harbor and Smallwood State Park. More than 300 boats will be involved, and area boat ramps may be crowded early in the morning on Saturday.
Cooler daybreak water temperatures allow for topwater fishing both around grass beds and other structure. Later in the day fish shady spots under docks or floating debris mats. The tidal creeks on both sides of the river are holding some nice bass. Fish stick worms and chatterbaits over the grass beds, and the edges as water lowers. Swim baits work well around hard structure.
Pohick Bay coves and shorelines hold bass and snakeheads. Blue catfish are common, with 40-50 pound fish a common catch for those targeting them. Snakehead catches are increasing with spawning over for now.
Fishing has slowed somewhat in the Colonial Beach area, with water clear and temperatures in the low- to mid-80s. Anglers are reporting catches of bluefish, croaker, spot, and white perch, along with the ever-present blue catfish. People also are catching brown shrimp in the area. The eating-size shrimp become more prevalent closer to the bay. Sightings of dolphin pods in the area are becoming more common. Sea nettles are starting to show their tentacles. Avoid bottom fishing in the area as the summertime depleted oxygen zone is forming.
Near the river's mouth, anglers continue to see nice bites of Spanish mackerel and speckled trout. Cobia are becoming more common, with anglers fishing live eels in chum slicks. Bluefish are around to strip the baits of those fishing for other species. Crabbing remains tough.
We are grateful to the many river watchers who contribute to this effort. Particular thanks go to the state departments of natural resources, Potomac River Fisheries Commission, National Bass Guides, Shallow Water Fishing Adventures, and Machodoc Creek Marina.