Follow #PotomacFishingReport across social media platforms to get the Potomac River Fishing Report as soon as it is published.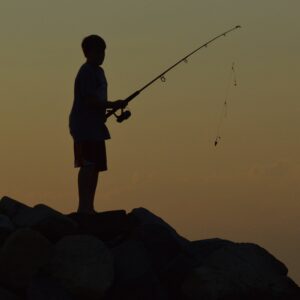 Shenandoah basin water levels are extremely low and clear with some algae blooms. Conditions have changed little from last weekend, and smallmouth bass and catfish can be found in both the North and South forks with the best times being early morning and evening as fish respond to even a couple of degrees lower temperature. Fish will concentrate in shady areas and deeper pools. Mountain streams in Shenandoah National Park producing some trout for anglers who can sneak up on them in the clear water.
The South Branch Potomac is running very low and clear, with water temperatures in the mid-80s. Wading or shore fishing deeper holes where fish concentrate is the best bet for finding some smallmouth bass, sunfish, and catfish. The cooler waters of the North Branch Potomac's trout management waters are home to some nice brown and rainbow trout. The ICPRB continues to assist the Maryland Department of Natural Resources with creel surveys and data collection that will help in future management decisions.
As in other areas of the basin, the upper Potomac River is getting tougher to fish as temperatures remain high and flow levels decrease. The water is very clear except where spots of algae foul the water. Early morning hours are best when water temperatures a re coolest, and wary fish are hunkered down in deeper areas of the main river where shade and structure, such as boulders and rock gardens concentrate fish. Use of less-visible monofilament lines with topwater lures or soft plastics will catch fish.  Seneca, Brunswick, and Whites Ferry provide access to some productive water and wading the river will be less frustrating than trying to navigate the shallows by boat. Small plastics dropped to a shady bottom in current and fished very slow can produce some nice bass. There is a high population of baitfish in the river down to its mouth, making it tougher for anglers.
The DNR is planning for a supplemental stocking in some areas of the river. For more information, visit the smallmouth bass stocking webpage.
Fishing in the metropolitan Potomac remains slow. Visibility is good and water temperatures are in the mid-80s. Bridge pilings, docks, and other structure can be fished with stick worms, soft plastics, and crankbaits. Fletchers Boat House is reporting some catfish and the occasional striped bass. The Washington Channel is holding blue catfish and largemouth bass. Patchy grass beds can be targeted for bass on a moving tide. Tidal currents will be strong this weekend due to the new moon.
Downstream, bass, like anglers, are seeking cooler water and shade. Docks and shaded areas holding bass will chase slowly worked stick worms or whopper ploppers. The weekend's cloudy conditions will help anglers using drop shot techniques to lure the fish from structure. Mattawoman Creek grass beds continue to give up some nice bass, and blue catfish seem to be most anywhere. Main river grass beds downstream hold some fish at the edges at low tide. Pohick Bay coves hold some nice bass. Snakeheads are lurking in grass beds and structure at the heads of tidal creeks. Fish stick worms and chatterbaits over the grass beds, and the edges as water lowers. Swim baits work well around hard structure. Pohick Bay coves are home to some nice bass, snakeheads, and blue catfish.
The Potomac River mainstem in Maryland and its Virginia tidal tributaries are closed to striped bass fishing through August 20. Maryland tidal tributaries to the Potomac are now open to striper fishing.
Colonial Beach is reporting a lot of baitfish and striped bass, which can only be targeted in the Maryland tributaries of the Potomac. Spanish mackerel can be found up to the Route 301 Bridge and anglers are trolling and jigging for them. Large spot and blue catfish abound. Sea nettles have appeared in force and can foul gear and crab pots. Anglers also are finding bluefish and speckled trout.
Near the river's mouth, anglers are taking Spanish mackerel and speckled trout. Cobia are being taken in chum slicks, which can also attract cownose rays. Bluefish are around to strip the baits of those fishing for other species. Crabbing has improved somewhat.
We are grateful to the many river watchers who contribute to this effort. Particular thanks go to the state departments of natural resources, Potomac River Fisheries Commission, National Bass Guides, Shallow Water Fishing Adventures, and Machodoc Creek Marina.