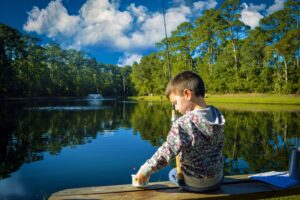 The Shenandoah and South Branch Potomac basins are low but running near normal for this time of year. Both streams are showing some better fishing as river levels have risen from very low water levels. Anglers are reporting catches of smallmouth bass, channel catfish, and sunfish in both systems. A segment of the North Fork of the Shenandoah is till harboring blue-green algae blooms that could be harmful to people or pets that have contact with the water. Mountain streams in Shenandoah Park are running low and clear, requiring anglers to carefully approach wary fish.
Trout management areas on the North Branch Potomac continue to provide a cooler area that holds some nice brown and rainbow trout. Fly fishermen are using terrestrial and nymphs to catch some nice fish. The ICPRB continues to assist the Maryland Department of Natural Resources with creel surveys and data collection that will help in future management decisions.
The upper Potomac River is challenging for anglers who are finding the improved river levels still carry a fair amount of stain and sediment. Early morning and evening are the best, coolest times to find fish that are keeping to the middle of the river over rock gardens and boulders. Large eddies in the current are good spots to find fish. Anglers are using dark-colored soft plastics, spinners, and chatterbaits to get attention. The bite remains very light and presentations should be worked very slowly. Pay close attention to feel the gentle bite. Lander, Whites Ferry, and Brunswick provide access to some good stretches of river. Anglers are finding some bass and catfish at Fletcher's Boat House.
Fishing is challenging in the metropolitan Potomac, with stained water and some patches of debris. Anglers are targeting bridge pilings and wood structure for largemouth bass. The Washington Channel is yielding some fish at the seawall and adjacent grass patches. Anglers are finding some fish off National Harbor and near Belle Haven Marina.
Downstream in the tidal Potomac, anglers are finding some largemouth bass off Piscataway and in Mattowoman Creek. Lilly pads and aquatic grass are good places to look on a moving tide. Stands of aquatic grass at lower tides are good places to use a floating frog or chatterbait for largemouth bass and northern snakeheads. Both species are also found in the Virginia embayments, where anglers are finding some large snakeheads. Early mornings and sunset are the best times to explore these waters which are about 85 degrees during the day. Large blue catfish are taking cut bait throughout the tidal river, with the largest found along channel edges. These fish are found all the way down to the river's mouth.
Water in the Colonial Beach area continues to show stained water and large populations of sea nettles that can make line and lure handling difficult. Some areas are showing water temperatures in the high 80s. Striped bass are in the area, although many are smaller fish. Anglers are trolling or jigging for them in the early morning and evening. They are joined by good populations of Spanish mackerel that anglers are catching by trolling or jigging. Some nice spot and small croaker are being caught, with white perch and some blue catfish rounding out the menu.
Those conditions hold down the river's mouth, where anglers are trolling and jigging for striped bass along the shipping channels. Anglers also are finding some large red drum. Anglers are sight fishing for cobia, and there are still some speckled trout. Crabbing remains tough. The area of low dissolved oxygen on the river bottom should keep anglers fishing above 25 feet to avoid the dead zone
We are grateful to the many river watchers who contribute to this effort. Particular thanks go to the state departments of natural resources, Potomac River Fisheries Commission, National Bass Guides, Shallow Water Fishing Adventures, and Machodoc Creek Marina.