Managed trout areas (catch and release) in western Maryland are running low and clear, but the fish are there. These areas will be more productive in the fall after October stockings. Fly fishermen are using a lot of streamers and ant imitations. The South Branch Potomac is yielding some nice smallmouth bass upstream of Petersburg.
The Shenandoah system is fishing well, with good catches of smallmouth bass, sunfish, and catfish.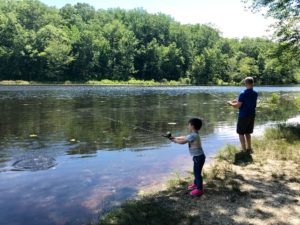 The upper Potomac is best in the mornings and evenings, but overall the section from Harpers Ferry to Brunswick has been disappointing this season. The extended wet period for the river has impacted spawning, and the lack of aquatic grasses has decreased habitat. As an example, the massive meadow of water stargrass usually visible from the bridge at Point of Rocks is not there this season. The fish being taken are near shore in the morning and evenings, and retreat to ledges and rock gardens at the bottom during the day. Anglers are reporting catches of crappie and sunfish along with smallmouth bass. Catfish are biting for those using cut bait.
In the District of Columbia, anglers are finding crappie, catfish, and some smallmouth bass at Fletcher's Boat House. Anglers are finding crappie and bass in Washington Channel and the grass at the War College wall. Bridge pilings and wood structure are holding largemouth bass and catfish.
Downstream, anglers will be sharing the river with a major bass tournament this weekend, which will center on the river and tidal creeks downstream of the District. The river temperature is in the mid 80s, and anglers who can slowly fish the grass beds on a moving tide will be rewarded. Mattawoman Creek, Aquia, Pohick Bay, and the mouth of the Occoquan will likely be extra busy this weekend. Snakeheads  can be found in thick grass up the tidal creeks, many of which are guarding the young in their nests. Monster blue catfish are being taken in the channel from Fort Washington downstream.
Anglers are trolling for some nice striped bass near the Route 301 Bridge. More stripers are being taken off the rocks at Cobb Island. Croakers are being found off St. Clements Island. The channel edges from Piney Point to St. Georges Island is a reliable striper area. Anglers are taking spot off the bottom and are using the fish to live-line for striped bass (anglers must use circle hooks). Spanish mackerel seem to be everywhere, with some bluefish and an occasional red drum on the bottom. White perch and croaker are being caught, and some anglers are taking cobia. Crabs are reported to be light, and are likely in their last shed for the season.
We are grateful to the many river watchers who contribute to this effort. Particular thanks go to the state departments of natural resources, Steve Chaconas/National Bass Guides, Mike Dudash/Eagle Aquatics, River and Trail Outfitters, Aqualand Marina, and White's Ferry.