The Shenandoah and South Branch Potomac basins have risen from their extremely low levels, but the rains are making for cloudy, mud-stained conditions. Anglers who venture out will find a lot more water to toss soft plastics in darker colors and catch some smallmouth bass or channel catfish. The challenging conditions will require a lot of patience, as the bite will remain very light. Mountain streams in Shenandoah National Park will see improved flow but carrying some stain. Hellgrammites and Dobson flies are out, so anglers will use them as a guide to choose flies.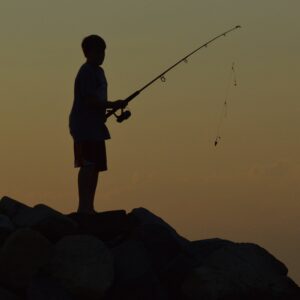 The South Branch Potomac is near median and showing some muddy color in some areas. Thunderstorms and clouded water could make conditions difficult. The North Branch Potomac will benefit from higher flows and cooler water temperatures, but the cloudy water will be a challenge. Anglers are using terrestrial flies to catch some brown and rainbow trout. The ICPRB continues to assist the Maryland Department of Natural Resources with creel surveys and data collection that will help in future management decisions.
Along the upper Potomac, the rising water is carrying stain and sediment, making for difficult conditions. The Monocacy River is carrying a lot of mud into the Potomac and fishing upstream of the confluence has clearer water. The best fishing will remain in main channel rock and boulder gardens, where soft plastics or spinner baits can catch some fish. Some anglers are using larger soft baits to increase their visibility in the stain. The higher levels will be greeted by boaters who have seen their range impeded by the low flows. Lander and Whites Ferry are good places to start. There is still a high level of baitfish in the water. Grass is continuing to grow at Point of Rocks, a welcome development after several years of poor growth.
Fishing in the metropolitan Potomac continues to be slow, with water temperatures decreasing but stain and sediment keeping conditions difficult. Bridge pilings, wood, and other structure can be targeted with soft plastics and noisy topwater baits. Fishing shallow in the muddy water is a good bet. Search for spots of clearer water in the grass beds on a moving tide. National Harbor, Mattawoman vegetation, and the Virginia embayments are giving up some largemouth bass with snakeheads active at the heads of tidal creeks. Patience will be a virtue to pick up the slow bite. Blue catfish are most everywhere and taking cut bait throughout the tidal river.
The Potomac River mainstem and Virginia tributaries reopen to striped bass fishing on Saturday.
The Colonial Beach area continues to report a lot of baitfish, although the profusion of sea nettles is making fishing difficult. Spanish mackerel are chasing baitballs of bay anchovy and other small fish. Bluefish and cownose rays are attracted by chum slicks put out for striped bass. Anglers are having some success trolling. Croaker have appeared in the river in force. White perch can be found in shallower areas of tidal creeks. Anglers are reporting some catches of smaller striped bass.
Near the river's mouth, anglers are taking Spanish mackerel and speckled trout. Anglers are finding some striped bass . Cobia are being taken in chum slicks, which also attract cownose rays. Bluefish are competing with the stripers. Some nice red drum are being caught in deeper waters. An area of low dissolved oxygen on the river bottom should keep anglers fishing above 25 feet to avoid the dead zone that etends up to Colonial Beach. Crabbing remains on the slow side..