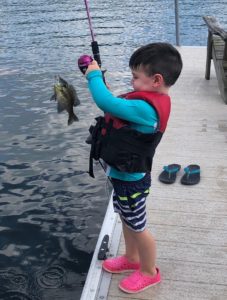 Mountain trout streams are in good shape for this time of year. Anglers are matching insect hatches or using streamers. The same holds true for the North Branch Potomac. The Shenandoah is running a little low in the upper reaches, but the river is producing some nice smallmouth bass and catfish.
The upper Potomac is best in the mornings and evenings, and anglers are taking smallmouth bass off poppers and other topwater baits. Daytime action is in the shaded ledges and rock gardens near the bottom. The Brunswick section is fishing slow for bass, but catfish are biting well. Washington Channel and the war college wall and grass beds consistently hold bass and cats.
Downstream, main channel grass beds hold bass. The heads of tidal creeks hold bass and are loaded with snakeheads. Lilly beds at Mattawoman Creek and other areas are holding fish. The deep channel off Fort Washington lighthouse is a great place to target large blue catfish.
From the Route 301 Bridge downstream, anglers are finding striped bass, a lot of Spanish mackerel, spot, and perch.  Channel edge between Piney Point and St. Georges. Available spot are being used to live line for stripers, as sell as the rock jetties around Point Lookout. Anglers are taking lots of mackerel, with some bluefish and a few cobia rounding out the opportunities. Crabbing remains good.
We are grateful to the many river watchers who contribute to this effort. Particular thanks go to the state departments of natural resources, Steve Chaconas/National Bass Guides, Mike Dudash/Eagle Aquatics, River and Trail Outfitters, Aqualand Marina, and White's Ferry.