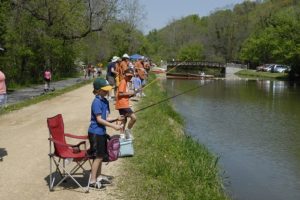 Trout anglers are doing well in the managed areas. Some nice trout are being taken in a segment of the North Branch Potomac. Sulphurs and caddisflies are hatching in those areas, and streamers are working as well.
Many areas of the upper Potomac remain near bank full and are carrying some stain. Smallmouth bass and sunfish will be nearer the bank in the morning and evening, and moving to deeper ledges and rock gardens when the sun is up. The area between Lander and Brunswick is giving up some nice smallmouth bass, walleye, and the occasional musky. The North Fork and mainstem Shenandoah is fishing nicely for smallmouth bass.
In the District of Columbia, grass beds are beginning to emerge, although the fisherman's friend, Eurasian milfoil, is yet to establish. Grass beds at the War College are giving up some largemouth bass and the occasional striped bass. Area fridge pilings, docks, and wood structure are giving up a lot of catfish and some largemouth bass. Bass are being found in the Blue Plains outfall.
The mainstem Potomac downstream of Washington lacks its summer grass beds, but the tidal creeks on both sides of the river have lily pads and grasses that are holding fish. Morning low tides will compress the beds, and fish can be teased out by getting plastics to the edges. Fish can also be found in structure near the beds. Monster blue catfish can be found in the channel around Fort Washington, but can be taken in shallows in many places along the river. Leesylvania State Park is another good spot to start from.
Downstream, anglers are jigging, chumming and trolling for striped bass on the channel edges near the Harry Nice Bridge, as well as some croaker. The same scenario is occurring at channel edges from Piney Point to St. Georges Island. Many blue catfish can be taken from the unusually fresh (not salty) waters. Shallow water fishing has yet to pick up, so the focus is on trolling and chumming from boats. White perch are everywhere, and crabbing continues to be pretty good.
We are grateful to the many river watchers who contribute to this effort. Particular thanks go to the state departments of natural resources, National Bass Guides, River and Trail Outfitters, Aqualand Marina, and White's Ferry.