Trout continue to bite in the western streams, mountain streams of the Shenandoah, and the North Branch and Savage.
The Shenandoah mainstem and its forks are giving up some nice smallmouth bass and catfish. Some algae is beginning to appear in spots.
The upper Potomac is in good shape, with reports of some nice smallmouth bass and catfish around Dams 4 and 5. As water levels slowly decline, fish may concentrate during the day in deeper ledges and rock gardens. Bank fishing with topwater lures will be more productive at dawn and dusk. Catfish can be found in any deep hole or channel with cut bait.
In the District of Columbia, anglers are finding lots of catfish at bridge pilings and deeper channels. Anglers are taking largemouth bass off the War College wall and adjacent grass. Some smaller striped bass have been caught as well. Downstream bass are being caught with crankbaits and plastics at Blue Plains and Fox Ferry point.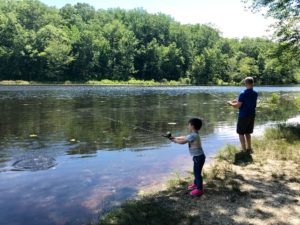 Bass are being found in the few main channel grass beds, piers, and other wood structure. Grass beds near the mouth of Mattawoman Creek are producing some nice fish. Snakeheads are breeding at the heads of tidal creeks, and appear to be spawning even in areas without grass, where they defend bald patches of creek bottom.
Near the Route 301 Bridge, anglers are working the shipping channel, trolling, chumming, and jigging for striped bass. Chum slicks also bring blue catfish. The area continues to see very low salinity, average clarity, and a larger than normal dead zone of low oxygen is predicted. As temperatures rise, the stripers—especially larger fish—can exhaust themselves when being caught in the warmer water, Maryland Department of Natural Resources is cautioning anglers about fishing in the warm waters for a species that is having population issues.
Near the river's mouth, anglers are continuing jigging, chumming and trolling for striped bass on the  channel edges from Piney Point to St. Georges Island, with blue catfish in the mix. Shallow water fishing has yet to pick up. And anglers continue to wait for the arrival of croaker and spot. White perch are everywhere, and crabbing continues to be pretty good.
We are grateful to the many river watchers who contribute to this effort. Particular thanks go to the state departments of natural resources, Steve Chaconas/National Bass Guides, Mike Dudash/Eagle Aquatics, River and Trail Outfitters, Aqualand Marina, and White's Ferry.