Fishing News
Striped Bass Closure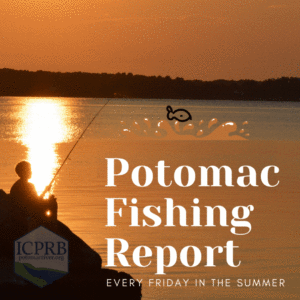 The striped bass fishery on the tidal Potomac mainstem is closed until August 21.  Virginia striped bass season is closed until October 4. Maryland embayments to the Potomac are open to striped bass fishing. This conservation measure was enacted because hot weather and low oxygen this time of year creates tough conditions for striped bass to survive catch and release – and this high mortality impacts the future of our fishery. Although the season has reopened, water temperatures remain high, and anglers should play all fish quickly and minimize the time fish are out of the water before release.
REPORTS
The Shenandoah system's North and South forks remain clear and fishable, and not much has changd during the previous week. Mountain trout streams in Shenandoah National Park are fishing well with the temperature moderating. It still pays to visit early in the morning to catch wary trout at their most active.
Both the North and South forks are holding some nice smallmouth bass and channel catfish. The slow pace has been boosted a bit from the slightly higher flows and cooler temperatures.
In the South Branch Potomac, smallmouth bass are being taken in the river around Petersburg as the region cools. Early morning will be the best time to chase smallies in the cooler water.
The North Branch Potomac and Savage rivers are at decent flows and temperatures, but we have not seen any reports from the past week. The trout management areas fish pretty steadily, however. The ICPRB trout monitoring program  on the North Branch has had to share focus with staff monitoring the Shenandoah for harmful algae blooms.
The upper Potomac River continues to fish well. Water temperatures have slid into the upper 70s. Visibility is good, with some stain. Water levels are near median. While the summer patten still holds, the slide in temperature is bringing some larger smallmouth bass into the action. Good fishing can be had from any of the major access points, including Lander, Point of Rocks, Brunswick, and Whites Ferry. As grass beds grow and levels remain low, traditional boats will have difficulty navigating some areas. Canoes, kayaks, and wading will open up a lot of river over traditional boats. Soft plastics, buzzbaits, stick worms, and small crankbaits can take fish from boulders and rock gardens in the main channel, the downstream edge of grass beds, and downed trees or other structure. Costs need to be accurate and retrieves slow and deliberate. Early morning and evening remain the best times to entice a bite. Channel catfish and flathead catfish can be taken with live bait.
The metro area holds lots of different structure, but aquatic grass production has not been great this season. The area around Key Bridge is productive but uncrowded. In the District, bridge pilings house largemouth, smallmouth, and striped bass. Channel and blue catfish will take live or cut bait. Areas with an armored shoreline, such as Washington Channel, will hold a mix of fish. Snakeheads are an added feature in the lower Anacostia. Soft plastics and crankbaits will find bass at the pilings, docks, and riprap structure. Some nice bass are being found in the spoils area and the docks at National Harbor.
The tidal Potomac remains in summer mode, and anglers are rewarded when fishing very early in the morning or at night. Blue catfish are in the deeper holes, waiting for a line with cut or live bait. The river channel off Fort Washington is particularly productive. Largemouth bass are being taken at the mouth of Piscatawy Creek. Downstream, Mattowman Creek lilies and spatterdock hold a mix of largemouth bass and snakeheads. Grass beds downstream in the embayments are popular spots. Pohick Bay , Aquia, and Chckamuxen creeks are fishing well. Floating frogs over gass beds is catching some nice bass, while the shallower creek heads with grass are yielding snakeheads. Stick worms fished very slowly remain a good tactic. Soft plastics and buzzbaits at grass beds edges can be effective. Leeesylvania has been fishing well.
Fishing activity around Colonial Beach is slow but picking up. Striped bass can be taken in the Maryland embayments, but the Potomac and Virginia embayments remain closed. Anglers are seeing a lot more sea nettles as the dry conditions bring more bay saltwater up the river. Spanish mackerel are being taken in the relatively clear 82 degree water. Catches of large white perch are being reported. Blue catfish are readily available.
Near the river's mouth, anglers are flanding some nice Spanish mackerel and red drum. Croaker, white perch, and kingfish are being taken around Cornfield Harbor. Bluefish are common, and anglers are casting in the shallows for speckled trout. And of course there are blue catfish. Crabbing has been going pretty well.
Be careful on the water this weekend. Be mindful of the hazards of abundant sun and high temperatures on both you and your quarry. Handle all fish to be returned quickly and with care.
We are grateful to the many river watchers who contribute to this effort. Particular thanks go to the state departments of natural resources, National Bass Guides, Shallow Water Fishing Adventures, and  Machodoc Creek Marina, Inc.