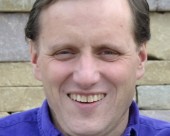 The ICPRB is saddened to announce the death of former Pennsylvania Commissioner Andy Zemba. Mr. Zemba, 50, passed away at his home on January 3. He was the director of the Interstate Waters Office of the Pennsylvania Department of Environmental Protection (DEP). His responsibilities as an ICPRB Pennsylvania Commissioner had recently been assumed by DEP Special Secretary of Water Resources Planning Kelly Heffner.
Mr. Zemba was appointed a Pennsylvania commissioner in 2011, served on the executive committee, served as vice-chairman in 2014 and chairman in 2015. During his tenure, Mr. Zemba worked closely with ICPRB in efforts to help with Pennsylvania' Water Resources Planning Act, which involves stakeholders in planning for sustainable water resources. Mr. Zemba worked with ICPRB, which helped to assess needs and develop plans in the state's Potomac drainage.
As vice-chairman, and later chairman, Mr. Zemba helped ICPRB administrate a range of efforts. He brought with him a positive attitude toward the ICPRB, and was always constructive in guiding the commission in protecting and preserving the waters of his state and the basin. We thank him for his many efforts and contributions. He is missed by the commission and Pennsylvania.
For information on the services or to send condolences to the Zemba family, please visit:
http://www.parthemore.com/obituaries/obituary-listings?obId=706768#/obituaryInfo