Virginia's Shenandoah River Filamentous Algae
Interstate Commission on the Potomac River Basin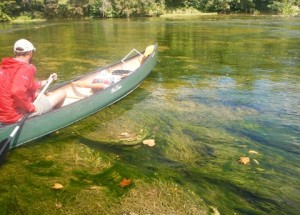 The current method for measuring filamentous algae in streams and wadeable rivers is based on a method already in use by West Virginia Department of Environmental Protection. Methods for bank-to-bank transects and longitudinal sections in non-wadeable waters were also developed.
ICPRB scientists have further developed these field methods for measuring filamentous algae in different stream and river environments of Virginia. Methodology and data collection were piloted in the Shenandoah River basin. The potential for citizen monitors to apply this method was explored.
ICPRB completed a final report describing the methods and submitted it to the U.S. EPA Region 3 in March 2015.  The report and its several appendices are available for download.