Events

Walk in the Woods: Frederick Municipal Forest
October 16 @ 9:00 am

-

12:00 pm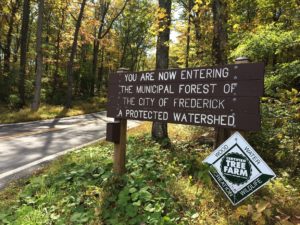 How does a city protect its drinking water? Fred Besley knew the answer. He was the first (and longest serving) Maryland State Forester. A century ago, Mr. Besley insisted the City of Frederick set aside land in the watershed to protect the city's drinking water. Luckily for us, the city listened.
Join us on October 16 for a hike in the Municipal Forest of the City of Frederick, Md. Our guide for this 3-mile hike is Jenny Willoughby, the Sustainability Manager of Frederick City. Jen is continuing Mr. Besley's legacy by knowledgeably and responsibly managing the city's watershed. She will talk about the active forest management, the history, and the flora and fauna of the area.
Expect to walk about 3 miles on moderate terrain. Please bring your own water bottle, snacks, and bug spray (if needed).
This event is free but please RSVP via the Eventbrite link.
This hike is part of ICPRB's Walk in the Woods Series produced by the Interstate Commission on the Potomac River Basin.
We will be meeting at the Hamburg Blue Lot (directions below) at 9:00am. Please pay careful attention to the directions because cell service is spotty and it can be easy to get lost.
Each participant will be required to complete the following form (copies will be available at the beginning of the hike):
https://www.potomacriver.org/wp-content/uploads/2020/03/Liability-Waiver-and-Medical-Form_2020.pdf